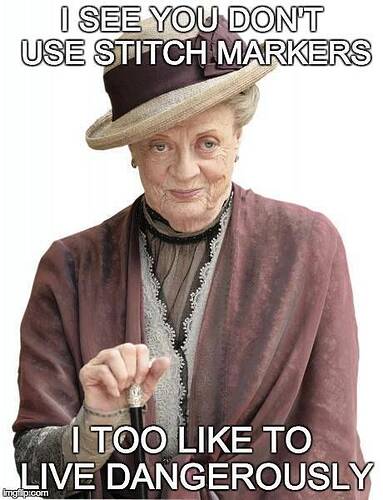 I live dangerously, for the most part! How about you guys? Do you live dangerously or use stitch markers? Lol
Stitch markers!!!
I do both… In crochet I rarely use them, except maybe to track my progress for the day (place marker on first stitch made them when I finish I can see how much I accomplished)… In knitting I'm more apt to use markers, but again not always…
I saw this same meme that said lifelines in knitting instead of stitch markers and I joke that my friend Rose lives dangerously as she NEVER uses lifelines and I can have 20 million in a small project (especially if lace) because I'm terrified I'll have to start over… I'm not good at ripping back or reading stitches…
Nope, stitch markers all the way haha (most of the time). A lot of the things I make are in the round and it's so hard to tell where your beginning stitch is. I just finished a shawl though and it was so easy to tell where rows began that I didn't use stitch markers for that project.
I use stitch markers because I get interrupted a lot and I don't have the brain power to hold on to stitch count
but if it's a quick project I don't/ sometimes I forget to put the stitch marker on when I get interrupted by my toddler
I use stitch markers and a counter​
Depends on the project. I do when I'm crocheting in the round and can't otherwise easily identify the beginning of a row. Otherwise I don't, but it's usually less my love for living dangerously and more pure laziness
.
Yes spiral rounds tend to require them (same as knitting in the round)… And I'm totally in agreement with you on the laziness over dangerous living hehe
Ditto!