Crochet therapy is definitely helping me through these final days (or possibly final hours) of pregnancy
Congrats…

And have a wonderful crocheting time…
Thank you
Oh my goodness! i'm certain it's helping with the anxiety!
Congrats and enjoy your crochet time so you can enjoy your baby time! Have you made anything for him that you would be willing to share, we'd love to see
Yes definitely, it's good to have a healthy distraction!
Thank you! And yes I definitely have made him a few things. I made him a little rainbow teether most recently. I just freestyled the design but I'm considering writing up a pattern for it
Also made these cute little bloomers for him (pattern from Croby Patterns)
And he'll be getting lots of handmedowns from my stash of stuff that I made for my daughter, like this little blue Pom Pom beanie (my pattern).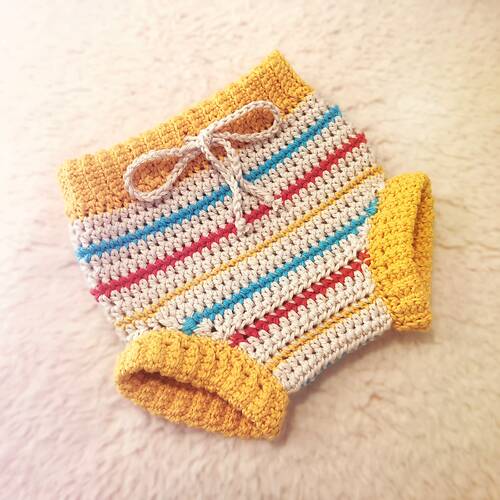 Thank you so much
Congrats! This is so exciting!!! Hope all is well!!!
congrats!! yea my mom was pregnant last month and just gave birth to a girl but i remember my mom was anxious and always high on her hormones so i tried to teach her how to crochet and it kinda worked for it bit for her. crochet is definitely a nerve reliever.
Thank you for the positive wishes
Awe that's so sweet of you, I'm sure you were a great teacher! There is definitely something so soothing about the repetitive motion and the ability to create something using your hands

Does your mom still crochet? I'm sure she's very busy with the baby!
Thank you!
no not as much any more but i try to help as much as i can with the baby because i know it's very difficult for her to take care of all three kids now
I'm sure she appreciates the help! I have a 19 month old right now and I know how much work is required to take care of her!
Aaawww! Look at that belly! I love this picture.
Congratulations!
Oh my heart! And uterus! He's precious!!!