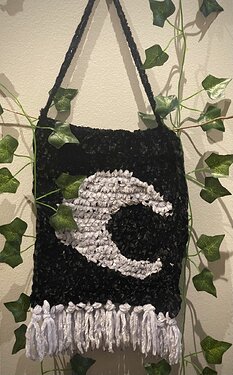 I found a free pattern awhile ago for a set of tapestries (sun and moon) I tried making the moon but it wasn't working out so I got out the graph paper and used my graphing skills from public school to map out a crescent moon and translated it to a pattern for crochet!! I used some scrap velvet yarn and a stick from an herb bundle and ended up with this!
I used the ends to clean up edges and make the curves more smoothed out while weaving in the many long ends I left.
Anyways I'm super happy with it and wanted to share with someone!