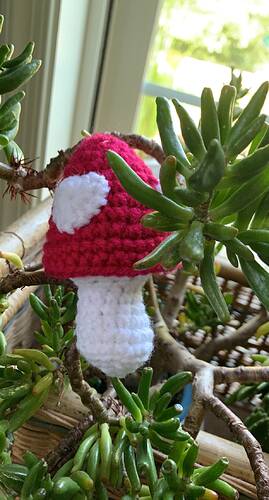 I'm looking for some testers (at least 3) to work up a toadstool amigurumi I've been working on! Ideally, a tester would:
Have made at least one crochet amigurumi before (ok to be a beginner!)
Be able to complete the test within 7 days of receiving the pattern
Feel comfortable with sending me images of your makes which I will use in collages to make tester appreciation posts and promote the pattern, always with credit to your Ribblr username, actual name, or whatever other tag you prefer
Make a Ribblr project for the test
Post images of your test on Instagram if you have a crochet account (if not don't worry about it) and tag me @fallcolorscrochet. I would also appreciate you making a project on Ravelry if you use it and later linking to the pattern on Ravelry as well
The materials you would need are:
Two colors of yarn (e.g. red and white) in any weight, as long as they match. The amounts used are pretty small, at most 30-40 yds
A hook size appropriate for your yarn choice (I used size E with weight 4 yarn)
Fiber fill
Tapestry needle
I value any kind of feedback, as I want to make this pattern readable to as many skill levels as possible. Some examples of feedback include accuracy of stitch counts, helpfulness of instructions, if it should be stuffed at a different point, whether the heart motif is adequately readable, etc. Please reply and let me know if you are interested and I'll send the pattern to you as soon as I can!