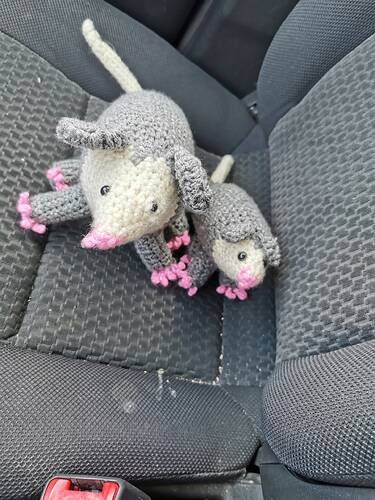 Hello friends!
I have finally gotten around to transcribing an opossum pattern that I free-stitched last year. I'm looking for people to test these patterns and make sure the proportions fit what I was going for.
Since this is my first pattern, I can't offer much in terms of compensation aside from the free pattern and possible future compensation. I'm mostly looking for feedback on the sizing so I'm open to any and all criticism, comments, or suggestions to improve
If you are interested in a fun little creature project, I'm looking for a range of sizes. Light, Medium, and Bulky/Blanket yarn would be great. You would need Grey, White (or off-white), and Pink yarn in the desired weight with the appropriate hook for the yarn weight.
If you're interested please contact me and I will make the pattern accessible to you!