I need testers for my * no sew * chick with a piggie hood + wings - Crochet ePattern
** DISCLAIMER ** will be updating these pictures soon, I know they aren't the best
I'm looking for testers for my new pattern. You know the saying "When pigs fly"? I decided to make this, based off of the saying. This little chick, really wants to be a pig that can fly. It's quite a quick pattern, especially because there is no sewing involved. If you hate sewing, this one is for you!! Huge shoutout and appreciaton to @binka, who helped me SO MUCH with the editing/helpful pictures in this pattern.
** PLEASE ACKNOWLEDGE THAT SOME OF THE TECHNIQUES USED IN THIS PATTERN MAY NOT BE SUITABLE FOR BEGINNERS **
I'm looking for 6-8 testers, no yarn requirements. If you don't want to make the hat a pig version, feel free to use your creativity and make something else up!!
The due-date is 28th of November (you have a week and a bit).
Testers who don't complete won't be chosen again. A journal is needed in order to receive your karma.
I'm picking testers on the 18th-19th.
Thank you!!! Anyone interested?
Click pattern photo to apply: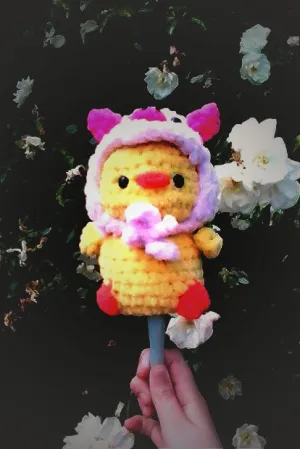 More Pictures
@binka
's work