I need testers for my Chonky the Elephant - Crochet ePattern
Click pattern photo to apply: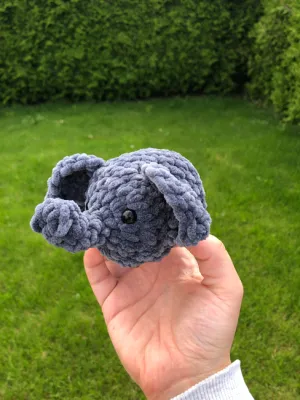 This is my first ever pattern that I attempt to release, and it's also my first tester call!
If something looks off or I do/don't something other designers usually do/don't in a pattern test, please let me know!
Yarn: Super bulky (WPI: 5)
Hook: 6 mm (US J-10)
Its fine if you want to use any other yarn or hook size; it would be fun to see how it would work up–just let me know if that's something you intend to do.
You can choose the color yourself!
The pattern works up very quickly.
I'm looking for 5-7 testers and will close the tester call 22nd August.
Deadline: 27th August
Expectations of testers:
That you post a photo of the finished project (on Ribblr or Instagram), preferably with my handle tagged where appropriate (@MakesbyMalin) and/or a link to the pattern when it goes live
That you can finish the project before the deadline
That you let me know if you have any feedback about the pattern (clarity, typos, etc.)
I'll try to figure out how to open a chat for the tester group!
Note that this will be released as a free pattern when the testing is done!