Hi all!

I'm looking for 4-5 testers for my Cthulhu: Low-Sew Rework - Crochet ePattern
Click pattern photo to apply: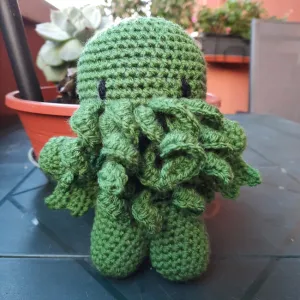 It's a medium-sized plushie that should take about 4 hours and a ball of yarn to complete; it only requires you to sew on the arms and wings, while legs, body, and head are worked as a single piece! I recommend using acrylic yarn and a 4 mm hook, but you are free to try other kinds of yarn or hook sizes if you prefer

I would like to release this pattern at most a month from now, so the deadline for finishing testing is December 7th; I would love it if you published a Journal with your finished Cthulhu after testing! I will also make a post on my Instagram when I release the pattern, so if you have an account there let me know and I'll tag you as a special thanks

This will be released as a free pattern, so even those who won't be able to test can still make their own plushie in a month or so :E
Looking forward to working with you!