Testers have been chosen, thank you to everyone who had applied!
I need testers for my Flip the Banana Slug - Crochet ePattern
Click pattern photo to apply: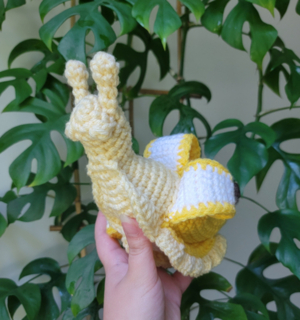 Hello everyone! I have another pattern in need of testing! Meet Flip, my sweet Banana Slug
I will select 5-8 testers.
No yarn weight requirements, I would prefer the color scheme is same.
Its more of an intermediate pattern, but I tried to make it as beginner friendly as possible. Be warned there's lots of sewing!
Testers will be picked on Sept 22nd (if there is a lot of applications I will close it early)
Due Oct 7th
Will be released Oct 8th sold for $4.00
Requirements:

journal (I would like to see you journal your progress when possible)

feedback, the good and bad

be okay with sewing (there's lots)

communicate in the groupchat

provide yarn weight and hook size in journal

good quality photo(s) of finished project
Pattern will be gifted upon completion
Thank you to all that will apply!
I will try to choose based on ability and not so heavily on karma