I need testers for my Electric Chubby Frog - Crochet ePattern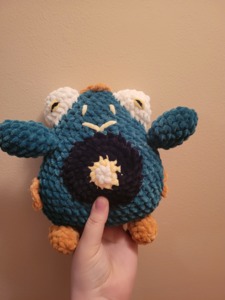 Based on Bellibolt!
You'll need green, yellow, orange, white, and black yarn!
I used chenille, so I'm not sure how it would turn out in different sizes of yarn.
You'll have 2 weeks to complete from the closure date (I plan to pick testers on the 2nd. Meaning you'll have until the 16th of January to complete it. To let me know you're interested, let me know who your favorite pokemon is, and let me know that you can meet the date!
I'd love to see some works (either on here or IG if you have one) but it's not necessary to apply.
Looking for 2 to 3 testers for any chenille or blanket yarn. Possibly 1 to try any smaller yarns.