I need testers for my Frog Plushie - Crochet ePattern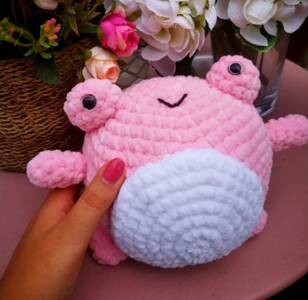 Cute! How soon do you need it done?
If you could make it till the 10th it would be perfect
Cute, looks so squishy!! Good luck with your test!
So adorable! Good luck with testing
I have some free time and could give this a go!
That would be amazing!
Amazinggg​
I could testtttt
Awesome <3
Could you make it by next week?
I'm going to add you
I would love to test this I could have it done this week
That's amazingggg! Please give me your feedback when you finish it
i would LOVEE to test this for u!!!
i would love to test for you. i could have it done in two days : )
i could maybe try and test it for you just know i will have to get some more yarn
I would love to test this! It's so cute
So cute!!! I'd love to test him for you!
Perfect
I'm going to add you!
I've added you too
enjoy
awesome tysm!! when's the due date??
If you can make it till friday it would be amazinggg