I need testers for my Pop Fidget Mushroom Keychain - Crochet ePattern
Click pattern photo to apply: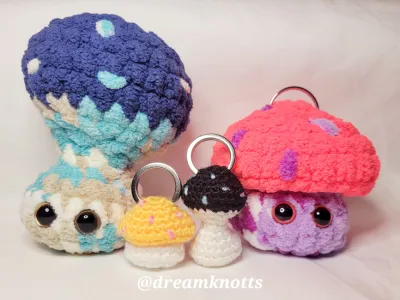 Tester Call!
Get ready to crochet and pop with this Amigurumi Pop Fidget Mushroom pattern! This playful and practical project combines the cuteness of amigurumi with the satisfying features of a pop fidget. The best part, NO SEWING required! Follow these easy steps to crochet your very own mushroom, keychain or not, that's not only adorable but also provides on-the-go stress relief!
About this Pattern:

Instructions with AND without keyring are included.

Completely NO-SEW!

Customizable!

No Yarn/Hook requirements.

Worked in joined rounds.

Includes (1) color change.
Tester Requirements:

Complete testing by Sat.Aug.26

Follow My Shop

Keep a Journal

Communication and feedback during testing.

I'd like for atleast 2 testers willing to add a keyring (no yarn requirements).

Not required but it helps:
Follow me on social media. @dreamknotts (IG/TikTok/FB)
I will pick testers on Aug.23 at 11pm(EDT)
Thank you in advance to everyone who applies!