TESTING APPLICATIONS CLOSED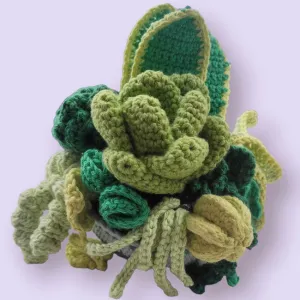 @AceAth3na101 has designed a succulent flower pot and is looking for no more than 5 testers of varying abilities, from confident beginner to advanced to test the pattern before publication.
When testing we ask you to stick with the instructions given (no free styling), checking stitch counts where applicable, making sure instructions are clear and easy to follow and looking out for any typing errors or duplicated instructions. Checking that round/row counts are in the correct order and that writing style is fluid throughout.
Testing time frame is from now until mid November (approx 14th Nov).
We ask all testers to complete a journal entry with your review/feedback which will be public after publication. Journals are not to be used for pattern notes, suggestions ect. There will be a dedicated message thread for those discussions.
Once testing and edits have been completed by a tester we will gift you the final pattern. If you don't think you can complete testing by 14th November, please don't apply to test. If you have been accepted as a tester and then don't test the pattern you will be removed and won't have the pattern gifted to you.
When choosing testers we do look at your previous makes and shops if you have them before accepting. This gives us an idea of ability ranges of those applying. If you have tested for us before it is more likely that you will be accepted.
Thanks in advance and we look forward to working with you.