I need testers for my Witch Book (3 in 1 ) - Crochet ePattern
Click pattern photo to apply: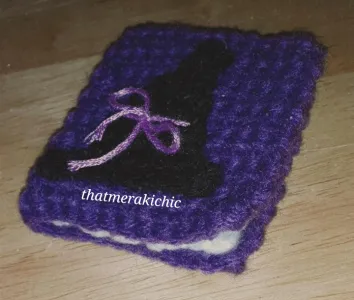 Hi! Im currently looking for 5-6 testers to test out my pattern! There will be 3 versions of the book. Charms, Spells or Potions. I will need at least 1 person for each book. The only difference between each one is the applique/name on the front. You can deside which book youd like to test when choosen
Rules to apply!

Must be active in tester group chat! If no response you will be removed

There are no yarn requirements! I used worsted weight but you may change that. Might have a different outcome though.

Journals are required! & Send 1 photo of finished project to me

Duedate: October 18th
If you dont want to test, I have this witch book pattern on my Instagram @thatmerakichic for this 1st week Hallowen Crochet Along!! After the cal the pattern will disappear