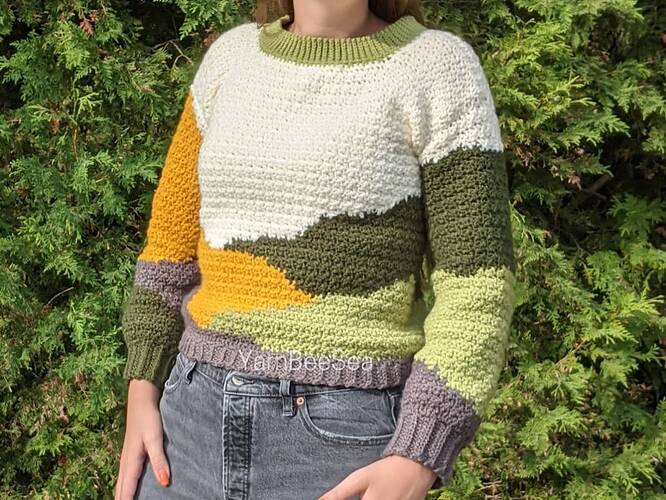 Hey everyone! I need testers to test this new pattern, the Mountain Range Sweater. It's a pretty big project, you'll need approximately: 400 (s/m) - 500 (l/xl/xxl) meters of worsted weight white yarn, and 200-300 meters in 4 different colours of worsted weight yarn. So, between 1200 - 1700 meters. I crocheted the medium and used 6 skeins of acrylic that were each 186 m, so for the small, you could get away with less meterage. I also used a 5.5 mm hook and 4.5 mm hook.
To test this project, you need to be comfortable with using a colour chart and with crochet colourwork in general. This pattern uses sl st, sc, dc, hdc and does require some sewing with yarn and a tapestry needle to assemble. Aside from the colourwork, this is a pretty simple pattern to follow.
All the pictures are for the medium size (bust 34"-37"), the pattern also needs testing for the small (bust 32"-34"), the large (bust 38"-41"), the XL (bust 42"-46"), and the XXL (bust 47"-51"). But I'd like at least one tester for each size.
The pattern will be ready for testing on September 1st and I'd like for the testing to be complete by mid-October at the latest. If you're interested, please reply with which size you'd like to test!