Some things I saw people mention and my thoughts
Good customer service (not staying on your phone, talking and engaging with people, etc)

Have everything priced fairly (Don't undermine your work!)

Make things that are affordable as not everyone carries bills higher than 20s and some don't carry much change (unless of course you're doing it digitally)

Perhaps have your items in containers and one item of each you intend to sell on display with price as to minimize bacteria/germs

Not really needed, but it might be nice to have a bottle of germ-x on the table for people to use

If you intend to sell things with safety eyes, chenille yarn, etc perhaps have it noted somewhere whether just for yourself to mention or a little paper to give saying how it can be a chocking hazard for kids and that chenille yarn sheds, etc (maybe even a step further and mention if the yarn used is machine washable, etc)

Having display stands or just displaying things nicely where everything is noticeable would make it look more pleasing to the eye

Seasonal and functional items might sell more but just sell what you want and take noticw around you what people bought and for how much for reference for next time or to even just sell online
These are just some things if you go on the community tab and click the magnifying glass and search up market there'll probably be a lot more tips and tricks as well as help, feel free to check those out as well and of course good luck and stay safe!
I've done many markets but over the years things have changed. Not each market organizer does things the same. Some just have 5 ft tables some have 6 ft or even booth sizes. It also helps if your able to do a mock set up a few days before market to give you an idea what works cuts down on set up time.
table cloth

sign with your name on it you can also include methods of payment on your sign

Take a container of items like scissors, tape, paper towel, pad of paper, pen.

have items clearly price marked and labeled. Either in a basket or on a shelf. So if your making facial scubbies add ribbon or a nice cardstock label ideas of labeling/pricing

laminated paper with price attached to basket

items individually priced
You can use string with a paper tag

chalkboard signs

people love to touch so if that bothers you have a sign asking no touching.

engage with customers, compliments and friendly communication goes far

if the market has Santa photos or free wrap let customers know

packaging people love extras wrap your makes in tissue paper it's that nice lil touch

shelves or dimension display racks
I'll put a photo just to give you an idea
I've used cube shelves but grid walks work or the wooden baskets. Grid walls you can get hanging baskets. Spice racks are awesome the lil shelf on the back of my table was from ikea but I've seen other neat ones used. Each market may allow different displays so ask the organizer to see if a larger display would be ok if you go that route.

keep your table filled but not over stimulating.
Engage with other vendors as well establishing those networks help lots too.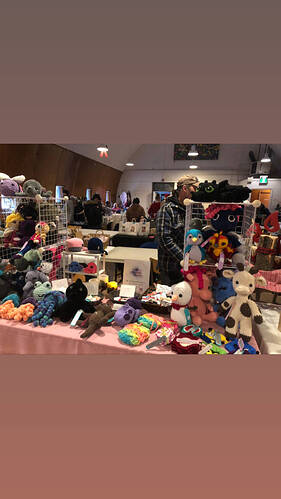 Hope this helps