Hey lovelies looking for crochet testers to help me with my new pattern design please read
𝐶𝑅𝑂𝐶𝐻𝐸𝑇 𝑃𝐴𝑇𝑇𝐸𝑅𝑁 𝑇𝐸𝑆𝑇𝐸𝑅𝑆 𝑁𝐸𝐸𝐷𝐸𝐷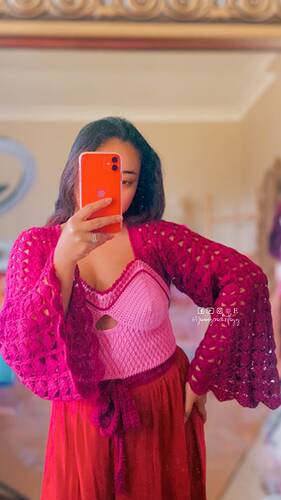 Hey lovelies looking for 8 people (sizes S-L) to test for me this newly finished written pattern crochet bell shape sleeve top that's inspired by Hermione's Yulle Ball gown during the Goblet of fire Harry Potter. I make it into long sleeve bells shape since I have so many of this yarn lol over shopped
so might as well use them hey​
So if you're keen to be part of the testing team here's what you need to do;
Make sure to follow @yommycrochetlogy

Make sure you can read and understand crochet abbreviations and symbols

Make sure to use the same yarn weight as the pattern requires (Fine,Sports weight or light weight)

Make sure to be able to finish within the testing time.

Willing to take 2-3 good quality photos of either you wearing it or flatlays photos with neutral to white background or less blings and colour behind you.

Willing to submit a good,well done complete notes of correction,spelling,suggestions and anything you can add on to help the pattern better.

Willing to submit a 15s reel/tiktok orientation video clips of you wearing the top

Willing to update me with their progress(story or feed post-tagging me)

Willing to post the top on their feeds and stories on the release day to help promote the new pattern.

Willing to finish the testing within 20DAYS, and all will be submitted to my email -photos,reel clip and notes.

Familiar with blocking it's recommended in the pattern

…and don't forget to tag a friend who might want to be part of this crochet-venture with you
Will pick a testers on 9th of Aug then day after I'll send the pdf copies to my chosen testers
To apply : COMMENT BELOW your size and colours to use for this top
-Thank you
Yommy
#crochet #crochetreels #reels #reeloftheday #crochetpattern #crochetpatterns #crochettutorial #tutorial #crochetdress #yommycrochetlogy #crochetyoutuber #handmadewithlove #crochetpatterntester #crochetpatterntestersneeded #patterntesterneeded #patterndesign #patternmaking #patterntesterswant