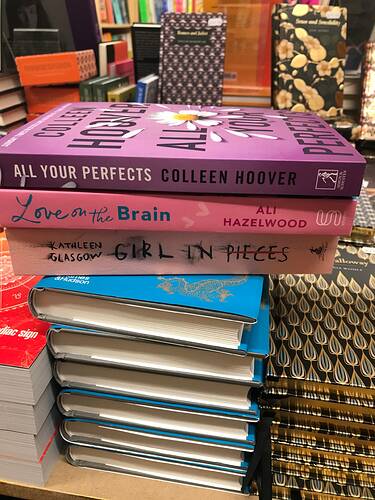 This is my newest haul! I love them so much[poll type=regular results=always chartType=bar]
Do u like reading
Or not
[/poll]
Many years ago one of my grandsons wanted to move in with me because I had a library in my house.
But several moves and years later, I am down to just a few books in the house. (He got one of my big collections.) Now, I read on the kindle, so I can make the words bigger. And the kindle fire reads it aloud to me. So I can still crochet.
Loveeeee to read, but since I spend all of my money on crochet supplies and yarn I'm more of a 'you can find me at the library regularly' type of gal.
Currently re-reading The Chronicles of Narnia.
I LOVE reading and that's alot to say with i'm only in the 8th grade. I try to go to my fiends and be like, "You read this?" or I try to talk about books with them and they're always like, "I don't like reading" So I mostly share my reads with my older cousin who is 6 yrs older then me.
I read on kindle too but I might need to get that Kindle fire. Imagine the books and projects I could finish!!
I'm adding it to my Christmas list rn lol
Definitely I read a lot, but like the others I don't need to BUY the books most of the time.
I get through them pretty good though-- 161 books so far this year!
I listen to audio books now although I had to buy a Fio to increase the volume.
Yes! Books are for buying, putting on a shelf and never reading them XD I buy far more than I read
Ok, I have a limited number of fiction books like Brother Cadfael mysteries hy Ellis Peters, Lord of the Rings, and the Redwall series. Interesting, all authors from England I just realized.
I probably have 60 books on crochet. Most of good, some a waste of money.
So, if you want feedback on a crochet book before buying it let me know.
I am very into sad stories! I read some book series that had be balling at midnight with my sister laughing at me
That's really nice I have always deliberated buying a kindle​
I can do relate. My motto is that "if it makes me cry it's an instant buy"
Of course I'll come to you
I have 16 books on my physical tbr at the moment
Oh my gosh yes!! And girl in pieces is literally the best!!!
Omg finally someone who gets it
have a great day and life loving with your amazing book taste
have u read the hate u give? its so sad
Not sure what this means?