I don't really understand $elfee can anyone explain it?
Here's a screenshot from the help center, feel free to use the keywoed SelFee while in the help center if this didn't help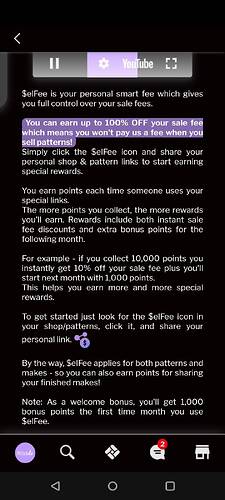 If you sell free patterns will you have to pay a fee?
No there is no fee as nothing is being sold, however you could earn money with Ribblr Earn with free patterns, I believe it should be Ribblr Earn as a keyword in the help center to explain what that is
I think this is what explains how free patterns can earn the designer money, when people sell makes of them
@tygger428 That's also a good point I forgot to mention!
I managed to find what I was referencing