Wondering so that I know if I have a chance of making it, is it a ribblr pattern?
I would be proud of making it too!! It's very cool!
Oh my gosh I've never seen something like that! I LOVE IT! You did a great job, too! (Also goblin hearts unite
)
Unsure if they are planning to, but ive been planning on asking them if theyll consider it!
Such a neat design with all those details and the story of it all warms the heart immensely!
Awesome!!
Some of my favourites are these
![2023

I dont paint much because i find i really struggle with motivation unless theres a reason that i should paint so when my aunt asked me to do a couple paintings or drawings for her office i was a little nervous because i hadnt painted in so long but i do like how they came out in the end
As for crochet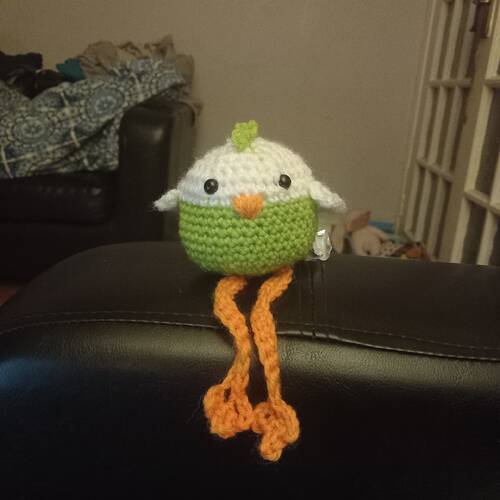 I just absolutely love my leggy bird
And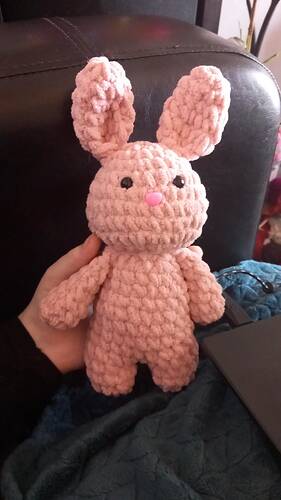 This bunny is just the cutest
Oh my goodness, your aunt must have been thrilled with those paintings- they're stunning!
Also the little bird and the bunny
The painting are beautiful! Also love your little bird and bunny!
Thank you! I was nervous to give them to her but she does like them! Shes a nurse so she felt ahe wanted her office to be brighter which worried me a bit-usually i draw in black ink on white paper and leave it at that
But yeah the bunny is so cute! And im currently in the process of getting bird pattern tested
I'm so happy to hear that it worked out and she enjoyed them; I never would have guessed working with color wasn't something you do naturally in your work- it's a lovely and harmonious set of paintings. I feel like there's a special sort of joy in returning to a craft/hobby/medium you haven't worked in for awhile
And it's your own pattern?! Double the cool!
Yeah i cant remember the last time i painted something with proper colours in it (probably when i was like 10 which is 6 years ago now)
Im so excited for the bird pattern to be tested and ready for release!
The bunny pattern is from here
That is so ADORABLE! i immediately want to make multiple
I know right?!!! Make sure to keep an eye out for when its release!!! I recommend it 100% (as well as all other patterns in @xhunni shop!!)
Capybara, pattern by me!

Banana dog pattern by
@JAdamsCollection
Chonky star that lives with my great grandparents in india, pattern by me!
He also lives in india with my grandma, pattern by me!
last one that was for my uncle in india too, pattern by me!
Loving that so many of these have found a home with your loved ones in India! And it is awesome that you freehanded so many of these designs!
I've been seeing capybaras a lot lately, but this is definitely one of the cutest! Well done!
The capybara is for my cousins graduation lol