hello! i would love to try any of your patterns if the option is still avaliable. you can add me on instagram - dziowana.tatuaze
Would you prefer the big rocket or the little bear?
Not biased but my 6 year old loves that rocket more than life!
Thank you I will go and choose colours on Sunday
I do not have Instagram but will share lots of photos in my journal for you to use xx
big rocket would be amazing !!
I'd love to do one of the rockets! I can have it done by February if you still need people.
It should be in your main patterns now. X
Thank you!!! It's so cute! My daughter will love it. She just turned four and told me she's going to be an astronaut in space and go to Jupiter.
I made it when my boy was 4. He is 6 now and it's still love
Awww! That's so sweet!
Hello! Do you have a chat group to provide feedback on testing these patterns?
@craftsbyKarla
No. I probably should have but just message me if you notice any problems or typos. They have been pattern tested previously, but not in the ribber app and a long time ago. I just want to fix any mistakes in case that's what is putting people off purchasing.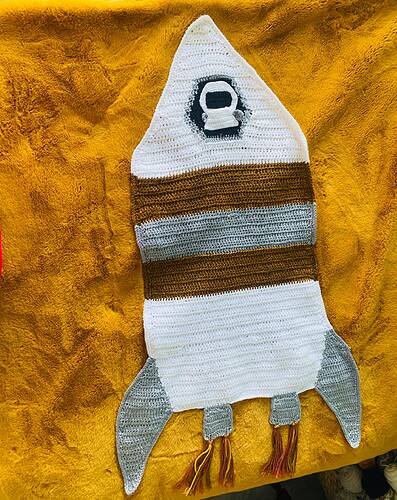 All done! Nako Mona Lisa Anti pilling yarn, Lion Brand Basic Stitch ( also anti pilling) hook was H/5mm. Two rounds of SC for border.
I think it looks great. You said it was for your grandchildren? Is that right?
They will LOVE it. Their grandma is so talented
Well, my grandchildren can pick out which ones they want out of 15 choices for their babies.
15 choices! Wow. You have been busy. Can I see the choices?
I hope they realise how lucky they are.
They are all in storage since I moved in with my daughter for a while.
Great request tho.
I have read you mention so much this storage of yours lol curiosity always kicks in
I would have been nice if I had packed the storage better so I could reach things. But, I have basically a 2 bedroom apartment packed into a 10x10 including probably 15 plastic bins of yarn. Its packed up to the ceiling.