Aww how sweet! Don't forget to add a link to help with your seller fees
Add a link from what to where?
Maybe I'm being dense, but I'm still not sure what you are talking about. The patterns are in my shop and you can get to my shop by clicking my name where am I supposed to put a link and what am I linking
If you edit your post and add a link by copying the url and adding that to ur post. Do you want me to add an image as a reference?
Adding the actual link here in your post gives you the $elfee points which when people click it (instead of using your profile) gives you points that could reduce your seller fees…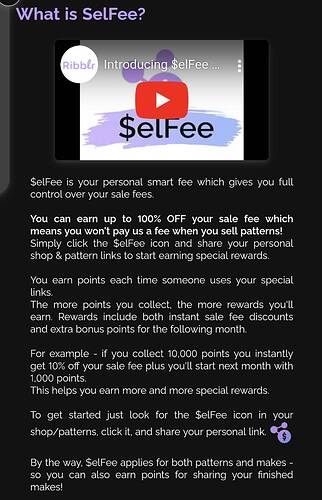 Ahh, I didn't know there was a difference
It's 6 different patterns, that could get obnoxious
You could link your shop and get the points, but honestly (and personally) I wouldn't find it obnoxious… Especially if you link then in order of the picture…
I think I have like 50 patterns in there now

Maybe if I open a new pinterest or ig I can use the links there to direct back to ribblr, but not sure about linking in the community for all the back patterns I missed
Ahhh I thought you were just talking about these 6… But yeah linking to your shop still gives you the points… I mean, you don't have to, it was just a suggestion
ooo aahh! (sorry i just had to lol) looks great! thanks!
those look very nice. Are they vintage style pieces?
yes they are!
the pointy ones are based off of styles worn in the late 1940's the round ones are based off of styles worn in the 1920's and the white ones were based off of styles from the mid-victorian period. I only had photos to go off of, so no idea how accurate they are in technique
Love the and congrats on the release!!
Oh my goodness!

Oh they're beautiful! I don't know why, but I thought they were going to be socks from the other post!
Oh… And…
Oooooh!
Aaaaaah!
Seriously, I love them!