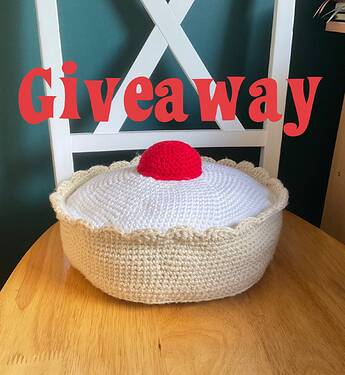 Hello! I'm so happy to announce that I'm holding a pattern giveaway for my tart cushion pattern as a thank you to my followers for getting me to 350 of you! This cushion makes a lovely lap cushion, as well as doubling as decor.
There will be 2 winners picked randomly and to enter the giveaway you can follow the ribblr rules or/ and check out the 2 posts I have for it on my Instagram @Jannyshook
The winners will receive either a pdf copy or a ribblr version of the pattern (winners can chose either, regardless of where they enter) ⁠
To participate through Instagram:⁠ (i have 2 posts on the giveaway, either or both) Check out my instagram post and follow the rules on it (@Jannyshook)
To participate through Ribblr:
like this post
post any comment in this post, you could tell me what colours you'd make your cushion in if you'd like! e.g normal or not) ⁠
You can participate in both Ribblr and IG! (3 entries all together if you enter x2 on ig!)
This giveaway ends on Monday January 14th. ⁠
The winners will be announced on January 15th on my IG stories and on this post. The winners will be messaged as well. Please be aware that I will only message the winners from this account, or my ig @Jannyshook, not any new accounts.
⁠ Good luck, friends!⁠ ⁠