That's hilarious!

IIt's just a little more-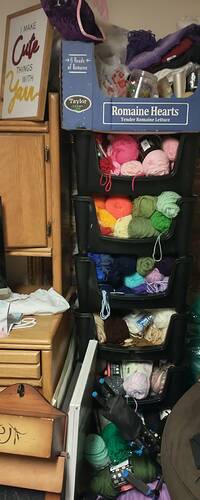 This is part of my other mess! The top (lettuce box( is sewing and Cricut stuff, mostly. The black bins are stuffed full of yarn. We had kittens who were attacking my yarn ends for a minute there. I've been trying to get everything reorganized, but I've been rearranging furniture and 3 different rooms, and getting things ready to start school. Ugh!
Come on, just a few more colors-
well if you put it that way…
Ugh! I hear you! I don't miss those days. By the time we got around to the third child, I quit all those school functions especially fundraising ones. I just gave a cash donation to the teacher, organization, etc.
We're actually homeschooling for our third year now. I WISH I could get cash donations!
You have to watch it, some of those homeschool curriculums can be ridiculously priced. I feel like telling them to take their snake oil somewhere else.
I homeschooled for a short time, daughter did better in a homeschooling co-op. Did two or three years of that. Then in Junior high she went to a Christian school.
My daughter told me once that she was glad to didn't go to the public high school. She said "Girls can be so vicious!"