I'm actually prepping for a Christmas market and making everything in bulk. Here's some of my last amigurumi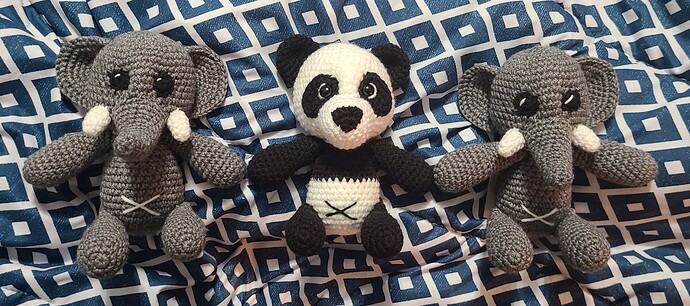 I love amigurumi but just find it too noodley with my arthritis but marvel at folks with the patience and dextery to create such adorable cuteness. I'm sure they'll all find new homes in no time.
Thank you so much!
They're indeed rough on the wrist to make as you need tight stitches. It might be easier for someone with arthritis to go with bigger yarn and hook ?
They're adorable!
Ohhh, thanks so much for that suggestion. I've never thought of sizing up the hook or yarn to make it easier. I think I just had it stuck in my head that amigurumi are small or even tiny. It's strange how we create our own misconceptions.
The thing with amigurumi is that you always want your hook a size smaller than the recommended hook size for the yarn you're using. That way you can keep the stitches tight

Hope this will help you make the jump to amigurumi, they're reallt fun to do
Those are really cute plushies!!!
I love your creations. I too enjoy amigurumi. I have only once made them true to size. Most of the time I am using a chunky yarn and a size K hook. The yarn is super soft and glued through my older fingers. Give it a go. Any ami pattern can have the yarn and hook to your liking. The pattern remains exactly the same only the brain becomes larger. The best of luck to you.