YIPPIE!!!
That's tje best date ever. I need me someone who will do that.
I would LOVE this.
Find you someone who can put up with ur yarn obsessed self
Seriously
the only men I ever met I had to hide my yarn from ;p
I've been married 3 times, none of them "shared" my excitement to be a "hunter/gatherer" of yarn lol, a pretty innocuous sport I think ;p. Their lack of excitement generally meant being chastised for spending money on it. My sister tells me my guy picker is broken and if there is a "bad boy" within a 100 miles of me, he will find me. Sometimes being alone has its benefits.
Yes, i've been alone since 2019 and i'm liking it now. When I want attention I just go to my daughters house.
Perfect for an introvert like me.
Nobody to tell me I bought too much yarn! Or pattern books! I've bought 15 books since October of 2021.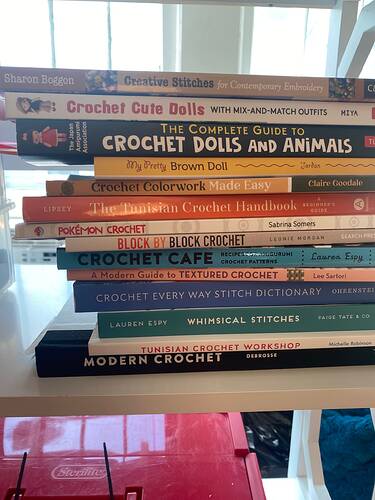 How the book reading going?
I've got more than enough!