OMG sooooo cuteee​
Oh my gosh! That's adorable
This was my last doll and my current. Disguised in black and white and sketch, because it's to be a surprise. Soon. I am further along than this, but that might give it away.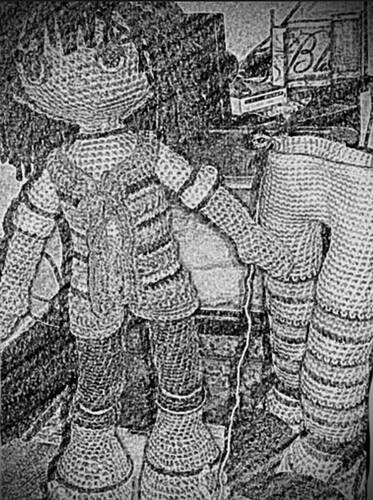 It looks great from what I can see!
So cute and fun!
Awww!
Agreeing that it looks great from what I xan see! Can't wait to see both of them finished
So cute! I love the colours
Oooh that's gorgeous!
(I've joined several year long mkals and haven't finished them yet
so what do I do? Join 2 for this year​
)
This is the first time I haven't done one in years. I still miss the doghouse and the mkals.
Those are the ones I've started and the ones I'm doing this year… It's her last year designing (she's on Facebook and using payhip for patterns)
My latest FO is from December… My baby is still pretty needy, so projects are slow go… But my best friend had twins 5 months after my baby was born so I "had" to make them something
(I may also have blankets in the making for them… And for my own daughter hehe)
Pattern is mine, hoping to someday figure out more sizes to get it written, but again time is not in my side right now

Those are so adorable!
It's bee-utiful!
Oooh so cute