Anyone here that follows an anti inflammatory or low histamine diet?
I wish I could help! Maybe you could try researching non-inflammatory and low histamine foods!
I did for two years snd I technically still should.
I started having serious rash issues after I came to the US ( after measles shots)
My rashes are awful, they started after I got COVID. On my arms, sides of my torso, neck, and face. I've even been accused of "being on drugs". That was during the 2 years before figured out I had COVID before anybody knew what it was and actual diagnosis 2 years later.
I'm going to give the diet a whirl, I was looking for support from anyone else in the same boat.
Def do the elimination diet!
It is a pita, but helps to rid your body of the histamine overflow.
Chamomile tea and Vit C will help.
For the rashes, use witch hazel for immediate help.
Try to get this: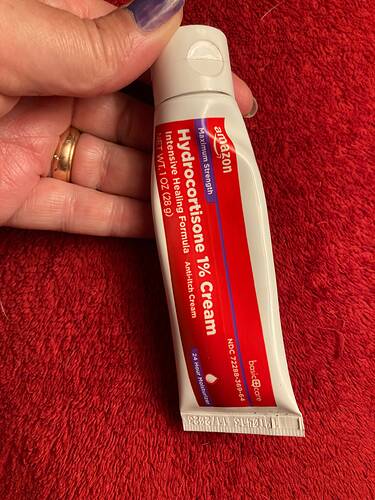 It's immediate and inexpensive relief!!
Yes! I am using that cream! It helps A lot!
I'm using the Mexican original preferably on my face. But the other parts get this one.
I follow an anti inflammatory/low fodmap diet and low carb for endo and diabetes. If you ever need recipie ideas or anything i can give you some good ones!
I don't know much about diet, but I know ginger helps with swelling!
I have psoriatic arthritis, asthma, and several severe allergies. My whole life is avoiding inflammation. I don't really follow a prescribed diet as much as I just avoid things I know will trigger a flare.
After years and years of rashes, I can tell you the best thing to calm the skin is magnesium. Epsom salt and Milk of Magnesia (or mylanta/maloxx) are the easiest sources.
oh, if the rash is really bad and getting raw…
mix equal parts liquid benadryl ,maalox, and liquid lidocaine. This is also safe for oral rinse…that's how I found it, it's call "magic mouthwash" but it's great for skin irritation
I only say that because the cream mentioned is a steroid and will only mask the problem instead of helping your body heal it
Yes, heard about the magic mouthwash too. If I may say so, lidocaine dulls the nerve endings, and the Benadryl doesn't cure anything-simply treats the symptom.
Not sure what topical magnesium will do but already prescribed magnesium supplement by Doctor.
I was reading an article on long COVID (that's what I have) and they will use steroids for short term to halt the inflammatory cascade but it doesn't cure anything either.
Since 2/2020, kinda weird, my physical/financial life blew up, but my spiritual life blossomed.
There is a significant similarity between long COVID and Mast Cell Syndrome (MCS) which is why I'm willing to try the diet. Sleeping for 18-20 hours is getting old.
Are you going to try the histamine elimination diet?
It goes into skin histology, but skin irritation can cause histamines which will cause more irritation and benadryl stops that cycle, lidocaine will dull the nerves and stop the signal for histamines to be produced and also relieves pain that interferes with the body's natural healing process, the magnesium will give a soothing effect and calm the nerves, again, breaking the cycle. None of these things will heal, only help your body recover and heal itself (which I did say the first time)
Steroids carry their own problems, I pointed out that the cream was a steroid. I have encountered folks that were unaware of that and may also be advised to not use more steroids like myself.
Thanks for watching out for me! @anon5108995
Forgot about this topic! Has anything helped you?
Nope! I'm waiting to see a doctor at the Virginia Commonwealth University so they can refer me to their Long COVID clinic.
The stress of the past year has just made everything worse but now I am living with daughter and I feel such relief!