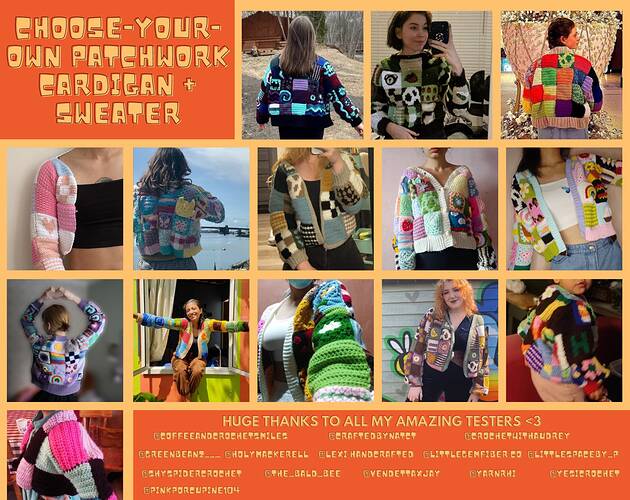 The Choose-your-own-patchwork pattern is now officially OUT! You can get the pattern at 50% OFF for this first week of release!!
⁠
The pattern includes:

⁠ Instructions for 31 different patches
⁠
Instructions to create either a patchwork cardigan or a sweater

⁠ Made-to-measure instructions to fully customize the width and length of the project! You could even make an ankle-length cardi
⁠The pattern includes detailed instructional videos and photos throughout the pattern, and a lot of tips for customizing! The best thing about patchwork is just how CREATIVE you can go with a project!

The pattern is perfect for an intermediate-level crocheter for the more advanced patches, but it also includes simple patches that a beginner could also create!
⁠
Thanks to everyone who has shown love and support for this pattern since I started working on it
Special thanks to all my testers! Check out the pattern, or my IG to see all my testers' wonderful cardis and sweaters
⁠Testers:

Inka (@shyspidercrochet )

V (@vendettaxjay )

Gwen (@yesicrochet )

Chloe (@pinkporcupine104)

Audrey (@crochetwithaudrey )

Viola (@coffeeandcrochetsmiles )

Izzy (@holymackerell )

Bhagyashree (@littlegemfiber.co )

Natalie (@craftedbynatct )

Joon (@the_bald_bee )

Pom (@littlespaceby_p )

Rhi (@yarnrhi )

Jade (@greenbeanz___ )

Lexi (@lexi.handcrafted )