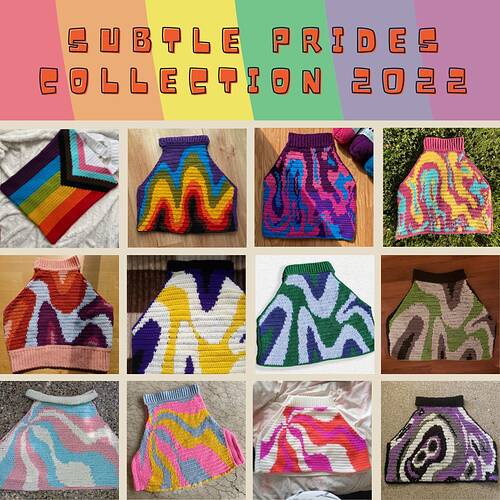 The Subtle Prides Collection 2022 is FINALLY LIVE!! I've been working on this collection for almost half a year now, and I'm so excited (and nervous) now that it is out and people can see and enjoy it!
I want to thank all my testers for all their hard work, encouragement, support, and love for the patterns. It means the world to me that so many fellow crocheters took the time and effort to help me test out the collection
it's no hyperbole when I say this collection would not have been possible without them. Swipe through to see all my testers' beautiful finished tops in different flag colors
my fave part of this collection is how versatile the designs are - you can adapt them to make any pride flag you choose while being subtle enough that you don't automatically out yourself
The pattern includes:
Instructions for 6 sizes (XS-2XL) plus tips and tricks on how to adjust the length and width for a more customized fit.
Instructions on how to make it with a back panel or backless.
Instructions on how to make it with a ribbed mock neck, or with a classic halter top neckline.
Includes a downloadable colorwork chart for all 6 sizes for the front panel design
The totebag is one-size, and it also includes a downloadable colorwork chart for the Progress Pride design
A portion of proceeds of the patterns from today up to September 23rd (including all my older patterns too!) will also be donated to @outrightintl !
Hope everyone has a Happy (and SAFE!!) Pride
‍⚧
TESTERS

@AnnaDill
@crochet_creations_by_a.a.m
@milkmade.crochet
@tasharoli
@crochet_will_save_the_world
@_andi.regondolaa
@samaras_stichings
@fanfrickintasticart
@holymackerell
@vibecraftscrochet
@how_to_cockroach_a_cat
@calicocatcrochet
@immycrochets
@welshe.krafts
@merelyarnel
@hookedbyruby
@acreatorliveshere
@yarnkittydesigns
@elissabeemakes
@crochet.by.maddie
@imknotcha
@marube.shop
@the_history_stitchery
@sapphiredoodle