How do you post videos on ribblr? I am on an iPad and wanted to post an video.
I dont know
To add a video that is either in your photos or saved to your photos, you can follow these steps to put it in a post/reply on Ribblr. First, hit the little arrow thing in the bottom right corner.

Then, hit from photos and then you can choose which one. I've never tried this with a video, but it should work I believe.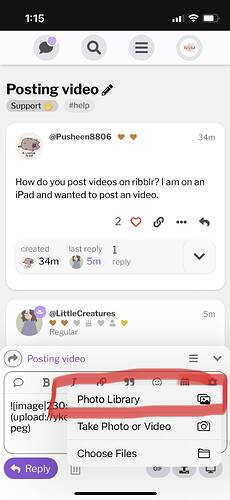 I am on a phone, but it should work the same on an iPad. Hope that this helps!
i dont think you can share videos ;-;
You could try some kind of file converter thing online to get it to one of those. Some of them could like get viruses on your device, but some might work
@Ribblr Is there a way to send videos?
Yeah, maybe it isn't possible because I think that all of the supported file types are for pictures, and when I tried to take a video it said the same thing. However, you could try uploading the video to YouTube or something and sharing the link. Other than that, I don't think that it is possible
The only way to share videos on Ribblr at the moment is through links, like YouTube or through giphy (?) I forgot the name I'll check right now lol you'll have to either post your video on YouTube, get the link and then paste it or or do the same with the giphy (?), Yes it's giphy I believe lol
You cannot upload videos directly on the community at this point, only share links to verified websites like Youtube, TikTok and Imgur.
You can upload videos to patterns, though. Hope that helps!