This looks very nice and soft!
Thank you!! It is soft!
These were all Christmas gifts:

Love the Piggy, Cow, and Skull beanie!
Thank you!
I love the felt details!! It looks so huge and cute!!
Woww I love all of them!!! Hope the people who received the gifts love it!
Thank you. Hopefully enjoying its new home now
Im currently making benji the postal worker bear, only missing his hat!!
its a pattern i really wanted to work on, and im loving him!!!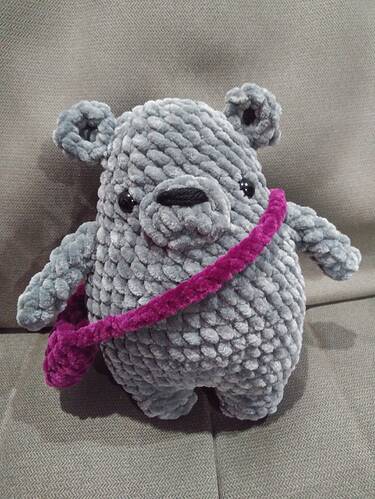 My current WIP…newborn baby girl blanket. Hopefully I will finish it before the baby goes off to college
Im working on a few things but mostly dolls

Oh, he is looking real good!
Loooove that bunny! You're using yarn I haven't seen before.
Too cute. What is the keychain?
Its a barbell i freehanded for my personal trainer as a holiday gift!
I thought maybe that's what it was!!