And my little Tomato Frogs are released!

Thank you to all my lovely testers! @cheerfulcoyote @gizmo705ok @Alyphira @ErisArt @LunaLemontree @bulldogcrochetss @Loladoggo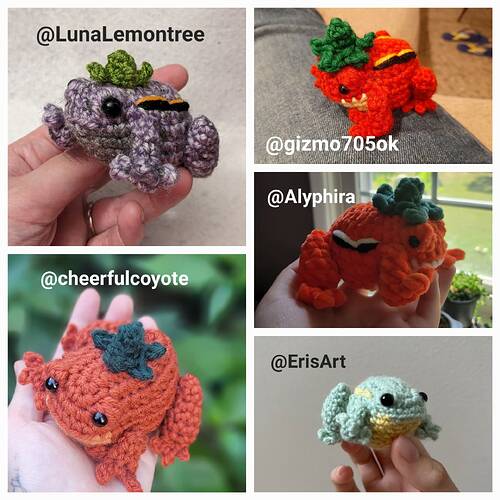 So adorable I love how unique and cute your patterns are!!
🫶🏽
the little red frogs favor the "garden salsa" sunchips!
Congratulations on your release
Congrats on the relase! Ty again for letting me test! :3
Congrats on your release, I love your pattern !
and I love everyone's froggies !
Congrats on your pattern release and to your testers!
Omg he is to die for!!! I just bought this pattern as soon as I saw this post on my phone!!! I have been wanting a frog like this for a while but haven't seen one I liked enough to buy… I figured I would have to invent one… but didn't want to take the time until afte xmas when craft sales are slow
Lol I am so excited!!! I am going to make an army of these frogs!!! Lol!
Thank you so much! I hope you will love him as much as I do​
You're so welcome! I love your patterns so far and can't wait to see more!
Congrats on the release, these are adorable
@LunaLemontree you found your frog! I love it!
@ErisArt your frog is so handsome!
They are all wonderful. It's a terrific pattern!
I didn't know my frog was missing but I'm glad you like him nonetheless
Thank you!