Hi Ribblrs,
During the last 5 weeks since our previous feature drop, we've worked on some of the most requested features and we're super excited to finally share them with you!
This new update is available right away on all of your devices.
We've also released a new app update. If you haven't already - download the Ribblr app for iOS and Android for free.
As always - we welcome your feedback! Comment below and if can leave a quick review for our app, that would be awesome.
Finally, many thanks to everyone who tested this version!
Scroll down to find out what's new👇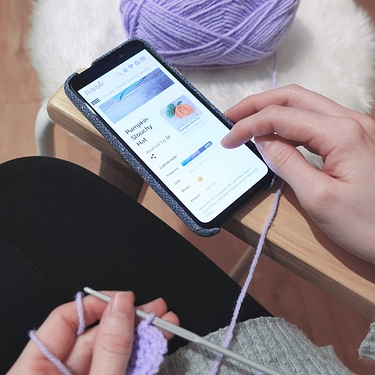 ---
What's new in this Ribblr feature drop?
(click to jump to section)
Table of contents
---
The feature that you've all been asking for is here!
Create and manage your projects directly within Ribblr ePattern by clicking the new journal icon.
Write notes, add WIP & FO photos and even select your mood. Ours right now?
Share your journals! Access your public journals by clicking 'My Patterns' then 'My journals' and hit the share button.
As always - your work is automatically saved and synced on all your devices!
We all like to use different colors for our projects. And we can finally stop reciting "red is brown… green is yellow…" every time we change yarn color when working with a colorwork chart!
You can now change colors of charts with a single click. Simply go to the pattern's materials page, select your yarn color and watch the magic happens.
Need help finding your next pattern? You can now see other crafters' reviews and journals on all pattern listings!
You can also review patterns you own directly within your personal journals to help other designers and crafters.
You can now share your wishlist with your friends! Click the new lock icon in your wishlist and then hit the share icon. You can always make your wishlist private by clicking the lock icon again.
You can now favorite shops of designers you love.
As you probably know, Ribblr is packed with lots of accessibility features.
From dark mode and reduce motion to selecting your size, language and font size.
We've now improved our left hand mode, which allows left hand crafters, to craft with ease. Craft charts from left to right, instead of the default. (right to left)
You've asked us to add personal notes to your gifts and you can now do it!
Go ahead and gift away.
Our auto convertor just got smarter. We now automatically convert yards to meters and vice versa.
You now see a summary of income, orders, patterns added to wishlists, and shop favorites. Filter stats by week, month, year, and all time and see graphs.
Select and drag multiple lines at once when editing your patterns.
You can now add notes to interactive charts to share important information. (e.g special stitches)
Our help center and manuals were updated with new information
The website and app work much faster now
You can now jump between all pages of a pattern using the improved 'Go to' menu
A new icon in all craft pages to help you easily scroll back to the top of the page
Knitting: more abbreviations and stitch tutorial videos added
Tunisian Crochet: more abbreviations and stitch tutorial videos added
You can now upload multiple photos to your patterns on our Android app
We also had to do some frogging and fix some bugs.
Fixed: an issue deleting lines in Ribbuild mode on some iPads
Fixed: a bug in Ribbuild mode where additional lines were added accidentally
Fixed: a bug in Android 11 when uploading photos in Ribbuild mode