This week we're thrilled to be featuring Alison (@KornflakeStew) of KornflakeStew!
Alison has over a dozen beautiful and uniquely styled animal-themed amigurumi designs on her Ribblr shop!
Scroll down to read our interview with Alison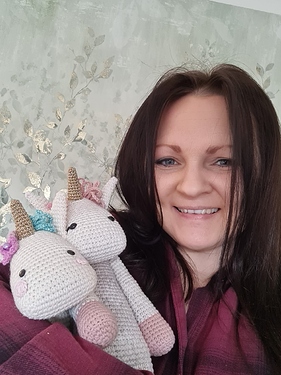 ---
Hi Alison! Tell us a bit about yourself.
Hi, I'm Alison. I live in the North East of England with my partner and our 3 children.
I've always done lots of crafts, hand sewing, quilling, cross stitch, drawing… I could go on and on
When and how did you learn to crochet?
I learned to crochet not long after my youngest daughter was born 10 years ago. YouTube was my teacher, so many youtubers to be thankful for. I started out with simple patterns following along, pausing, rewinding, pulling it out and re-doing! I just knew straight away this was the craft for me, I loved it from day one.
And when did you start making and designing Amigurumis?
A few months down the line I came across amigurumi. I'd always had a soft spot for making toys, usually hand sewing them so amigurumi opened up a whole new world. The first time I followed along with a pattern, I actually really disliked it, I found it very tricky to get those small tight stitches, perseverance and many, many more months later I wanted to make a giraffe but couldn't find a pattern I liked. I decided to give it a go, making it up as I went along. I posted a picture on flickr and had so, so many people ask me for the pattern. I made another giraffe, writing it down as I went along, taking pictures and my first pattern was born.
That's amazing! What inspires you?

I absolutely love designing cute and quirky animals. I have lots and lots of sketchbooks filled with ideas waiting to be brought to life, I just wish I had more pairs of hands, or didn't need any sleep! Inspiration comes from all over, I love childrens illustrations, all kinds of art, nature, the seasons, and of course pinterest and Instagram are great for browsing through.
A few years ago I was lucky enough to be asked to write a crochet book, I jumped at the chance to have my very own book with Tuva publishing, Cutest crochet creations, its something I will always be proud of.
And what are you working on right now?
I'm working on at the time and right now I'm designing a sheep. Its fun to think up the different ways he can be made and the yarns I could use. Lets face it, choosing the yarn is one of the best bits
Any favorite song you'd like to recommend?

My favourite song is anything by Florence and the machine.
What is your favorite feature on Ribblr?
I love that you can upload unlimited media to Ribblr patterns. Photo's videos and even audio clips. This is going to be very useful.
And finally - your shoutout to a fellow Ribblr!
I was so pleased to see MYPZ official (@MYPZ) on Ribblr, I love their bright and colourful knits.
---
Thank you so much for sharing Alison! It's great to learn more about you

Check out KornflakeStew shop:

---
Want more? Check out our previous Ribblr of the week posts!
Want to be our next Ribblr of the week?

Send us a message and be our next Ribblr of the week (plus win our special Ribblr of the week gold badge🏅)
---
Comment below and let us know which of KornflakeStew designs is your favorite!