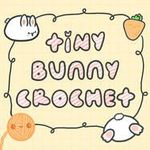 ---
Hi! Tell us a little about yourself.
Hi! I'm Anne, currently studying in sunny Singapore and I've been crocheting for about maybe four years now? I've just started university so I haven't had much time to crochet, sadly :')
When did you start crafting and how?
I first got into crochet when my mom's friend gave me some handmade scrunchies! I was quite amazed by the fact that she could create such cute scrunchies, because at that time I thought that crochet was just tablecloths and lace work. I didn't really pick up crocheting until maybe a year or so later, when I was looking for a cheap (haha) hobby. I found some crochet hooks and yarn at Daiso, where everything is $2, and eventually found out how expensive this hobby is
And how did you start designing?
I love no-sew patterns (mostly because I'm quite lazy to sew pieces on HAHA) so when I couldn't find a good enough pattern for what I wanted to make, I just decided to wing it and make it by myself! Sometimes I dislike the process because it's quite disheartening to frog your work that you just worked on, but I just tell myself that the end product will be better!
Do you have a favorite craft type and if so - why?
Crochet is definitely my favourite, but I've been trying to pick knitting up. I feel that it's so much harder than crochet! My tension is always wrong
and I end up having my knits and purls look so different.
What was the longest project you worked on?
Oh, definitely the Rafaela top from @stringofkisses on Instagram! I had to keep frogging it because I wasn't happy with the fit! But once I finished the top it was all worth it, it fits me perfectly and looks gorgeous. Oh, and this boba dino from @kelvencrochets. I was pattern testing for them and there were so many things I have to sew on, like all 6 spikes, and the arms and legs, I think this took me forever because I could not get myself to sew on the parts.
And the shortest one? (excluding frogging!)
I think my sumikko gurashi pattern works up quite fast! It takes me about 20 minutes to make one, so its perfect for craft fairs where I have to make a ton of stuff!
What are you currently working on? Be honest - how many WIPs do you have right now?
I'm currently working on the cat in toast pattern by @stitchingwithsab! I've also been making some tiny mushies from @chonky.crochet using a 2.5mm hook. I'm just waiting on my tiny eyes to arrive then I can post them!
I think I don't really have any WIPs lying around because if I put them down I never find the motivation to finish them again.
What is your usual process of designing?
Usually I try to find patterns online for something that I want to make, and if I can't find any then I turn to designing my own! Another thing I like to do is modify some patterns, like for example when I saw this Pusheen cat milk design from their Instagram, I immediately wanted to make one so that I could hang it on my bag! I remembered that my friend @josabellas had made a milk and cookie pattern, so I used her base milk carton pattern to create my tiny little cat milk! Of course, whenever I do this, I give all pattern credits to the original designer.
What inspires you to create/design?
I love giving gifts to my friends, so when their birthday comes up I will always be looking for things that I can make them! Usually I will be trying to make something special for them and that's my main inspiration
Pop culture time! Any favorite song, book or movie you would like to recommend?
Oh!! My favourite song right now is Limbo (Orchestral version) by Royal Blood. I love their album Typhoons!! You guys should listen to it too
Currently, I love listening to indie pop rock bands, like Vinyl Theatre and Des Rocs. Also, I love this show called The Good Place. It's only 4 seasons long but it's such a good watch!! I also love watching animes and my current favourites are Cells At Work and Dr. Stone! At their core they are science animes but they manage to get the scientific content across in such a way that it's not boring.
Share a funny story that happened to you recently
Aha this might not be that funny, more scary!! I'm currently staying in hostel right, so one day I was going to brush my teeth and when I opened the door, I saw this huge moth just chilling on my friend's door! I was so shocked that i immediately closed my door and watched it through the peephole. It was probably palm sized but it was so scary!! Luckily, after a while some guys from another floor helped to catch the moth.
We really want to know - what is your favorite feature on Ribblr?
I absolutely love being able to cross out the lines that I've finished! Also, the ability to write on any of the patterns. I absolutely love Ribblr it's insane how much this tool has helped me when I have nothing to crochet, I can just go through all my old patterns and find something to make!
That's awesome! And finally - pay it forward - your shoutout to a fellow Ribblr
@crochetknerd is my favourite!! She was one of my first crochet friends and to see her grow so much is incredible!
Thanks so much for sharing!
---
Find all our previous featured Ribblrs here.
Want to be our next Ribblr of the week and earn a special badge?

Send us a message and be our next Ribblr of the week (plus earn our special Ribblr of the week gold badge​)