Say hello to Beth (@realmdesigns) - our Ribblr of the week and the designer behind realmdesigns!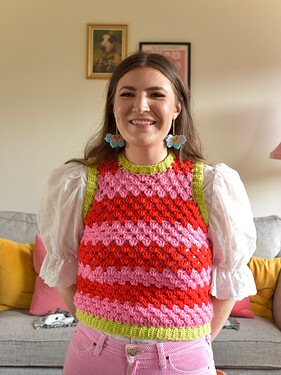 ---
Hi Beth!
Tell us a little about yourself.
My Name is Beth and I'm 24 years old. I live in Staffordshire, England with my boyfriend and dog, Gus.
When did you start crafting and how?
I started crocheting when I was 19 at college, doing a foundation course in Art. My tutor set up a knitting club at lunch. Every time I would go I would show her crochet pieces I had found online, wanting to know how to make them! So she showed me how to crochet a flower. I instantly fell in love and luckily my mum could also crochet so I went home and got her to help, I haven't stopped since!
And how did you start designing?
After college I started my own business, I didn't really know what I was doing! I was making clothes, upcycling and there was some crochet too! I never wanted to sell something that wasn't my design, so from the very start I have always experimented with designs and eventually my business became a crochet brand. I started by selling the finished pieces but now I also write the patterns so others can make it too!
Do you have a favorite craft type and if so - why?
Definitely crochet!! I find it so satisfying, each stitch is like ticking something off a list and before you know it you have made something new just from a ball of yarn! I have also always loved 70's fashion and crochet was a big part of that.
What was the longest project you worked on?
My most time consuming project is my granny squares and stripes cardigan. It takes about 12 hours to make. This piece also never feels finished, I am constantly updating the design!
And what's the most recent project you've worked on?
I have recently made a new collection for A/W so there are a few! My favourite from this is my new flower vests.
Which of your makes/designs are you most proud of?
It has to be my granny squares and stripes cardigan! I first made it back in 2018 and thought no one would ever buy it because it was too expensive. It is now my best selling finished piece and pattern!

What is your usual process of designing?
I like to draw out my design first to get the idea out of my head, this is when I'll try to figure out what colours to use. I then use excel to work out the measurements and how I would like it to fit, then my favourite part, start crocheting! I like to make notes along the way and then I will always make a second piece while writing up the pattern.
What inspires you to create and design?
Everything!! Sometimes it will just be a colour pallet or piece of art I've seen. Everything I make it something I would want to wear so I just designs things I want.
Time for some pop culture!
Any favorite song you would like to recommend?

My all time favourite song is sexy back by Justin Timberlake but you will usually find me listening to music from the 70's or a true crime podcast (red handed the post cast is my favourite).
Can you share a funny story that happened to your recently?

Last week I went on a Ferris wheel with my niece, which probably isn't the best idea when you don't like heights! She spent the whole time laughing at me because I couldn't look down or let go of the side.
What is your favorite feature on Ribblr?
I love that you can change the pattern from U.K terms to U.S terms, a lot of my followers are from the U.S so it is perfect!
Pay it forward - your shoutout to a fellow Ribblr

I love @TheDreamCrochet - her stuff is amazing!
Thank you so much for sharing Beth!
---
Check out Beth's shop
---
Want to read more?
Check out all our previous featured Ribblrs here.
Want to be our next Ribblr of the week and earn a special badge?

Send us a message and be our next Ribblr of the week (plus earn our special Ribblr of the week gold badge🏅)
---
Any questions for Beth? Share them below!