Say hello to Chloë (@ChloeGetsCrafty) - our Ribblr of the week and the designer behind Chloe Gets Crafty!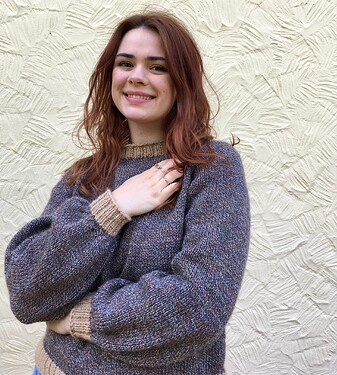 ---
Tell us a little about yourself
.
Hi, I'm Chloë! I'm a 23 year old knitter from Hertfordshire in the UK, and whenever I'm asked to talk about myself I completely forget who I am haha. Last year I graduated from the University of Nottingham with a Master's degree in Chemistry. Besides surrounding myself with yarn I enjoy country walks, binge-watching TV shows, singing and playing guitar (but only when no one's around), and I'm a proud plant mother to Sandra the cactus.
When did you start crafting and how?
I've dabbled in various crafts over the years (weaving, whittling, painting etc) but my love for knitting began when I was very young and I had an obsession with finger knitting! I made a LOT of very long (and not very functional) scarves. I started knitting with needles when I was nine. I didn't have anyone near me who knew how to knit and YouTube was still relatively new so I taught myself (or at least I tried to) from a knitting book that we had in the house. I got to grips with knitting and purling and tried out a few other stitches but at some point I put my needles down and didn't really pick them up again until lockdown! My friend had just started knitting and it reminded me how much I used to love it, so I cast on for a blanket and haven't stopped knitting since!
Do you have a favourite craft type and if so - why?
Knitting! I think once you've found the best way for you as individual to hold and move your needles and yarn, there is a lot of comfort to be found in the rhythm of the movement of your hands and the simplicity of taking everything a stitch at a time. I find it very addictive and fulfilling starting with a strand and ending with a piece of fabric, and of course there is a lot of joy in of creating something that I've designed and know will be loved. You start with a pile of yarn and then BAM it's a garment. Absolute magic.
That's awesome! And how did you start designing?
I imagine like most designers I started before I even realised that's what I was doing - when I had a knitting pattern that wasn't quite what I wanted. Instead of designing a whole jumper all at once I designed parts of a jumper. I used a different stitch, different colour work, a different sleeve shape but used the original pattern as a base for how many stitches I needed at key points. Then as I gained more understanding about shaping, sizing, and what I wanted out of a garment I began designing pieces from scratch!
To date, what's the longest project you worked on?
The longest project I've worked on was probably a blanket I made as a wedding gift for a wonderful friend of mine. It was big enough to cover a double bed and worked in chevron stitch on 5 or 6 mm needles. It was also stripy so I had * a lot * of ends to weave in too! (There's also a scrap jumper which didn't take that long to knit up, but it's been almost a year and the armpits still need seaming and all the ends need weaving in so it remains unfinished oops)
What's the most recent project you've worked on?
I'm currently working on (among other things) a cardigan version of one of my favourite jumpers. It's very simple but the sleeves are very elegant. It's going to have a contrasting pocket lining and I'm very excited about it!
Which of your makes/designs are you most proud of?
This is a tricky one because I'm proud of a lot of my makes for different reasons – my caterpillar jumper was my introduction to intarsia (a technique I absolutely adore). I definitely should have started with a simpler design, but I am immensely proud of the finished product and it represents a big step in my knitting journey. However, I think I'll have to go with the Pixel Jumper. It was the first jumper I designed from scratch, and will always have a special place in my heart. It was the first time something came from my head and then suddenly existed. It was the first pattern I wrote, and the first time had test knitters all over the world creating one of my designs, which is something that always amazes me.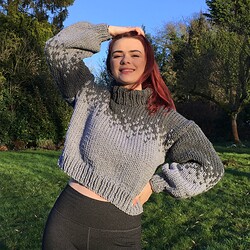 What inspires you to create?
Sometimes I'll be inspired by the lack of something existing, and wanting to fill that gap. Other times it'll be the beauty in a simple form, or wanting to showcase a stitch. Sometimes I'll just be looking at my yarn stash and the colours that are there and see a combination that I need in my life and design a garment for those colours. Occasionally I'll intentionally set out to make something chaotic because I don't know where it'll lead and the adventure of creating freely is incredibly exciting!
Any favorite song, book or movie you would like to recommend?
Choosing just one song is an impossible task! Firstly, I want to give a special shoutout to The Darkness and the album Permission to Land, but some other artists for you to check out are Orla Gartland, Lauren Aquilina, Sigrid, and Gabrielle Aplin!
Share a funny story that happened to you recently.

So I have a bonsai tree and I was pruning it on my bedroom windowsill (upstairs) so that I could throw the debris out the window. I put my glasses on top of my head to see the branches up close, but as I was leaning over my tree my glasses slid off my head and fell out of the window onto the concrete patio below. I had only got these glasses the week before after a lot of faff with the wrong lenses, and was absolutely mortified – but of course I didn't know what state they were in because they were too far away and the whole world was a blur. So I ran downstairs and went outside, treading very carefully because I couldn't see where I was standing and didn't want to crush them. Eventually I found them and by some miracle they were still in one piece with only one or two minor scratches on the frame, so I can laugh about it now, but those were a nerve-racking few moments. Shoutout to Kylie Minogue for designing glasses that are seemingly indestructible!
What is your favorite feature on Ribblr?
I think the smart sizing is great! It's super helpful to be able to only see the relevant information for the size that you're making.
Pay it forward - your shoutout to a fellow Ribblr
@TheNowhereCo ! We've been growing together as knitters and designers for a while now and it warms my heart to see her amazing designs coming together.
Thank you so much for sharing Chloe!
---
Check out Chloë's shop
---
Want to read more?
Check out all our previous featured Ribblrs here.
Want to be our next Ribblr of the week and earn a special badge?

Send us a message and be our next Ribblr of the week (plus earn our special Ribblr of the week gold badge🏅)
---
Any questions for Chloë? Share them below!