Say hello to Emily (@restlessstitches) - a talented designer and our Ribblr of the week!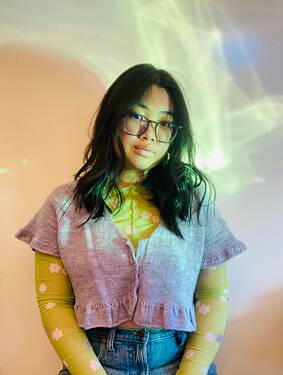 ---
Hey!
Tell us a little about yourself.
Hi there! I'm Emily (or restless.stitches online), and I knit, crochet, and embroider — but I'm not necessarily that good at all of them. I'm a 20-year-old college student studying English and Sociology, and I'm from Houston (but currently living in Philadelphia).
When did you start crafting and how?
I've been crafting for as long as I can remember. My mom is a huge crafter, so growing up I always had access to all the stamps, dies, cardstock, paint, embossing powder, ribbon, glue, etc. that I could ever want. I got into fiber arts more gradually though; my grandmother first taught me to knit in elementary school, and then I quickly forgot how to knit. I tried crochet in middle school, and embroidery in high school, and then during 2020, I started practicing knitting, crochet, and embroidery more regularly — fast forward to today, and here I am, still making knots and loops with yarn.
Wow!
Do you have a favorite craft type and if so - why?
My favorite craft type changes every few years or so, but right now, I'd say knitting. I definitely don't knit every day anymore, as I used to a year or so ago, but I just love it. It's such a good way to keep my hands busy and mind at ease when I'm feeling especially restless (hence my username…), and I've met so many people (both online and in real life) because of it. I love how there's both an individualistic and community aspect to knitting.
So - how did you start designing?
I never really intended to start designing. My main motivation with fiber arts (at least, but also with other crafts and interests of mine) has always been to figure out how things work — how exactly is a sweater constructed? What goes into creating an original pattern or design? Why do certain types of yarn work better for some projects and not others? So quickly after I started knitting and crocheting again during quarantine, I started creating patterns for amigurumi, sweaters, earrings, and embroidery, but they were always just for myself. When I created my Catching Waves sweater and shared photos of it online, I was really surprised by the response I got, and decided to grade the pattern, get it tested, and put it out there.
What was the longest project you worked on?
Does an ongoing one count? There's a fair isle sweater I started in February 2021 that's still missing sleeves. It's buried in a box underneath all my other unfinished projects…we don't talk about it.
And the shortest one? (excluding frogging!)
I made a lot of amigurumi during my first semester of college (it was completely virtual), and there was this one amigurumi ghost pattern I used to make a lot of, and I could make one, from magic ring to weaving in ends, in about 20 minutes.
What are you currently working on? Be honest - how many WIP do you have right now?

I'm currently working on a sweater for my roommate — it's my own design and completely customized to her — that I started in November 2021. I don't have an exact count but I want to say about 12 WIPs??
Which of your makes/designs are you most proud of?
Definitely my Catching Waves sweater. It was a lot of knitting 'firsts' for me — first attempt at intarsia, first time designing a pattern, first true experience playing yarn chicken.
What is your usual process of designing?
I start with finding inspiration from Pinterest, Instagram, retail stores, TV shows, etc., choose my yarn, make a (very rough) sketch, do some math that I don't fully understand, and then I start knitting or crocheting the design, unravel it, start over, maybe unravel a bit more, and then eventually I end up with a design that I'm happy with — or at least that's the goal.
And what inspires you to create and design?
I mentioned this above, but trying to understand how things work is a huge source of motivation and inspiration for me. But also, I love color. I love experimenting with color and wearing colorful things. I think it's so fascinating how different colors or different color combinations make us feel certain things, and I love how crafting and designing allows me to work with color to create things that I might not otherwise be able to find or purchase.
That's awesome!
And now for some pop culture. Any favorite song, book or movie you would like to recommend?
Currently my two favorite bands are The Regrettes and Bad Bad Hats — I'd recommend California Friends from The Regrettes and Walkman from Bad Bad Hats. But I've also been listening to Kiss With a Fist by Florence + The Machine and 001 by Maude Latour a lot lately. And for books — Everything I Never Told You by Celeste Ng is always my go-to recommendation.
Care to share a funny story that happened to you recently?

A few weeks ago I booked a 6 am flight (I've been taking 6 am flights for the past two or three years — I have a routine down), and despite the ten alarms from 3:30 to 4:30 I had set and five calls from my aunt and uncle (who were on the same flight as me), I somehow missed it. My airline was surprisingly helpful and quickly got me onto the next flight out, and then I bought myself a pretzel.
What is your favorite feature on Ribblr?
I love how easy it is to filter the pattern instructions by what size you're working on!
Lastly - pay it forward - your shoutout to a fellow Ribblr

Jaime of @jaimecreates has been a huge inspiration to me forever — I love how fun and colorful everything she makes is — plus she's so fun to talk to.
Thank you so much for sharing!
---
---
Want more?
Check out our previous featured Ribblrs here.
Want to be our next Ribblr of the week and earn a special badge?

Send us a message and be our next Ribblr of the week (plus earn our special Ribblr of the week gold badge​)