Say hi to Evangeline (@Crochetcreative) - our Ribblr of the week and the designer behind Crochetcreative!
---
Hi Evangeline! Tell us a little about yourself

Hi! My name is Evangeline and I work for a local church which mostly consists of children's and youth work. I love all things outdoors and spend most my holidays in the mountains, ticking off as many summits as possible.
That sounds awesome! So when did you start crafting, and how?
When studying my degree in Adventure, I found I spent a lot of time indoors during lectures and essay writing, it was then that I wanted to take up a new hobby which I could do inside and whilst multi tasking. I saw a beautiful granny square blanket which encouraged me to ask my Gran to teach me to crochet. She taught me how to do a granny square and I remember practicing it all week, by the end of the week I finally got it!
And how did you start designing?
That was in 2019. When lockdown first hit, being trapped inside meant constant crochet for me! Online lectures were always accompanied by crochet and I began my instagram page @lovetocrochet_creative. I loved creating new jumpers, cardigans and tops each week and it was great to have somewhere to share them.
So is it fair to say Crochet is your favorite craft type?
Crochet will always be my favourite as it works up so quickly and means I can catch up on a good Netflix series at the same time!
What is the longest project you ever worked on?
My longest project was a floor length granny square cardigan which took a few days of non stop crochet, and I mean non stop! This is now used as a Joseph and his technicolour dream coat costume!
And how about the shortest one?
My shortest project was a mini beanie hat which I've used for stuffing chocolates in as mini Christmas gifts.
What are you working on right now?
My most recent project has been the writing of my Crazi Cardi pattern, including all the variations, this is available on Ribblr!
Which of your designs are you most proud of?
I'm most proud of my Joseph dream coat! Maybe I'm not actually most proud of it but it took so much effort that I feel I should be.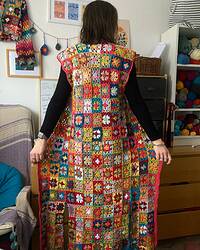 What is your usual process of designing?
My process of designing is trial and error! I love just making things up as I go along, seeing what works and what doesn't.
What inspires you to create and design?

Pinterest often makes me inspired to create but my creations are usually inspired by what I'd like to wear.
Time for some pop culture now!
Any favorite song you'd like to recommend?

Keep you warm – Jaguar Sun, keep you warm like my crochet does
Any funny or interested story that you'd like to share?
I live alone and talk to myself a lot. I was shopping and forgot that I wasn't alone, chatting away to myself, usually about some random crochet ideas. I had some very weird looks…… hopefully i'll get out of this bad habit soon!
We'd love to know - what is your favorite feature on Ribblr?
Progress tracking!
Finally, pay it forward - your shoutout to a fellow Ribblr
Shoutout to @realmdesigns !
Thank you for sharing Evangeline! And Happy New Year!
---
---
Want to read more?
Check out all our previous featured Ribblrs here.
Want to be our next Ribblr of the week and earn a special badge?

Send us a message and be our next Ribblr of the week (plus earn our special Ribblr of the week gold badge​)
---
Any questions for Evangeline? Share them below!