Say hello to Hannah (@OffTheHook) the designer behind Off the Hook, and our Ribblr of the week!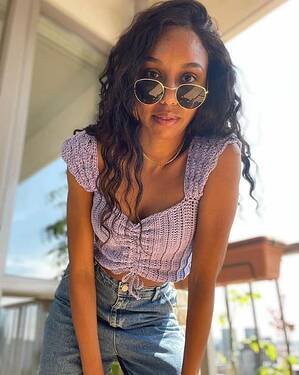 ---
Hey! Tell us a little about yourself.
Hi i'm Hannah! I'm 32 and currently working and living in London as a Head of Music at a secondary school. I learnt to play the piano at age 7 and studied music production at university. I'm a big fan of Hip hop, Afro and recently K pop music. I also love eating Asian and Italian food and drinking lots of herbal teas. I started my side business (Off The Hook) in 2020 selling crochet fashion patterns and items and I'm so grateful it's doing well.
When did you start crafting and how?
I've always been creative and into crafts (I definitely got the crafty bug from my mum) I've dabbled with knitting, sewing, jewellery making and I started crocheting out of boredom a few years ago. I needed a new hobby so I watched a few crochet YouTube tutorials and decided give it a go! I picked it up quickly and became addicted to making small clothing items and accessories.
And how did you start designing?
Designing just came naturally. Initially, I would tweak other designs to suit my style but once I'd learnt the basics, it became easy for me to start designing my own items. I started posting my designs on social media a lot of crocheters were interested in making it for themselves, that's when I started writing patterns. It's amazing to see how far crochet fashion has evolved, I've so many ideas for designs it's mad!
Do you have a favourite craft type, and if so, why?
Most definitely crochet! I love the variety of stitches you can creative with, the fact that I can pretty much do it anywhere (I've always got to pack a crochet bag when I travel now) and there's nothing better than a bit of Netflix and crochet.
What was the longest project you worked on?
Probably a cardigan I made during lockdown. I decided to use a unique stitch that gave it a beautiful texture but was a nightmare to work with because it was so intricate! It tuned out beautifully though so well worth it.
I also made a mini dress once and it took forever to get my brain around getting the shape of it right. I got there eventually but I won't be making another one any time soon.
And the shortest one? (excluding frogging!
)
Has to be hair scrunchies, they are always quick, easy and look so cute. I also made a last minute cat ear headband for a fancy dress lockdown zoom quiz (remember those?) which took no time at all after the frogging.
What are you currently working on? Be honest - how many WIP do you have right now?

Haha! Well I'm actually working on another pattern right now which I'm excited about! It's for a sweater I designed about two years ago which was popular but I never got around to writing the pattern until now. I'm also making a scarf out of scrap yarn and a cute little baby beanie for my great nephew.
Which of your designs are you most proud of?
Kind of hard to choose to be honest, I'm proud of all my designs but I'd say my stand out one is a Zebra print sweater vest I made on a whim. I was delighted that it turned out pretty good and you could actually tell it's zebra print.
What is your usual process of designing?
Usually I just run with an idea in my head and hope for the best! Sometimes I'll sketch it out but most of the time I free hand then try and remember what I've actually done. If I'm experimenting with colour work and tapestry crochet I'll plan the design on a chart.
What inspires you to create/design?
Lots of things! I'm big into vintage fashion so that definitely plays a role. Sometimes it could just be coming across a pretty stitch and trying it out and other times I'm inspired by colours and prints. Lately, I'm into Paloma Wool sweaters and 90's fashion. I'm also inspired by many other talented fashion and crochet designers.
Any favorite song, book or movie you would like to recommend?
The Alchemist by Paulo Coelho and Noughts & Crosses are great books! I also recommend any Jordan Peel movie and please listen to Why Why Why Why Why by Saulte, I promise you won't regret it!
Care to share a funny story that happened to you recently?
A benefit of being a teacher is I get to teach a range of personalities and some of my students are hilarious. I taught the word 'syncopation' to class which can be a tricky word to remember and spell. The class had an exam recently and one of the questions required answer, syncopation. What did a student put as their answer? Constipation! Well, at least they tried haha!
That is hilarious!

What is your favorite feature on Ribblr?
I love how interactive the patterns are and the fact you can easily follow a pattern with the progress checks. Makes life a lot easier when you're trying to follow along and watch tv at the same time!
Awesome! And finally - pay it forward - your shoutout to a fellow Ribblr
Shout out to The Dream Crochet (@TheDreamCrochet)! Her designs are so colourful and fun and I'm in awe of her constant creativity and motivation. She has so many cool patterns and crochets at lightning speed! Go check her out.
Thank you so much for sharing!
---
Find all the amazing patterns Off the Hook has to offer!
---
Want to read more?
Check out all our previous featured Ribblrs here.
Want to be our next Ribblr of the week and earn a special badge?

Send us a message and be our next Ribblr of the week (plus earn our special Ribblr of the week gold badge​)