Say hey to Jackie (@doeanddeercrochet) - our Ribblr of the week and the designer behind doeanddeercrochet!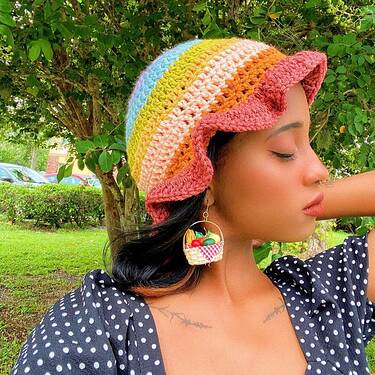 ---
Hi Jackie! Please tell us a little about yourself.

Hi, I'm Jackie! I'm 27 years old and I'm from Miami FL, but I currently live in Orlando FL with my fiance and two fur babies. When I'm not crocheting I love drawing/painting, writing poetry or watching horror movies. I'm also a hardcore plant mom!
When did your crafting journey begin?
I started crocheting about 8 or so years ago! I was working a retail job while in college and crochet tops were really trendy at the time. I remember thinking "Hmm, I can make that!" So I taught myself through youtube videos and I've been crocheting ever since!
That's awesome! And how long have you been designing for? How did you get started?
I started posting my work on Instagram and got a few comments asking if I sold patterns. I didn't even know how to read a pattern at the time let alone write one! I learned to read patterns by testing for other designers and really wanted to share my own designs as well.
Do you have a favorite craft type and if so - why?
That's a tough one because I love to dabble in everything! But I'd have to say it's a tie between crochet and painting.
To date, what was the longest project you worked on?
A granny square blanket for another maker! It was my first big project. I was so proud (and relieved) when I finished it haha!
And the shortest one? (excluding frogging!
)
Probably earrings or scrunchies!
What are you currently working on?
I'm currently working on a hexagon cardigan that I can't wait to finish.
Which of your makes/designs are you most proud of?
I'd have to say my Retro Wrap Top!
What is it that inspires you to create and design?

I'm really inspired by nature! I love botany and adding elements of that like embroidered flowers or leaves to my work. I also work with mainly earth tones like greens, mustard and browns!
That's is really noticeable in your wonderful work! And now time for some pop culture:
Any favorite song, book or movie you would like to recommend?

Anything by Tame Impala! Pride and Prejudice is my all time favorite book and as for movies mmmm…probably The Possession or Midsommar if you're a horror fan!
Any funny or interesting story that you'd like to share with us?
Oh gosh, I can't even think of one right now. But, I had to go get cat food the other day and didn't want to grab a cart so I had like 15 cans stacked on top each other and they all came tumbling down once I got to the register. The cashier was so annoyed with me! Does that count?
We'd love to know: What is your favorite feature on Ribblr?
I love the automatic pattern translation feature! It makes it so easy to share patterns with makers in different parts of the world.
Lastly, pay it forward - your shoutout to a fellow Ribblr
I love everything that The Dream Crochet makes! Ashlee's designs & photos are so creative and whimsical. Also Crochet by Kaylee makes the cutest plushies ever.
Thank you so much for sharing Jackie! And happy holidays
---
Check out Jackie's shop
---
Want to read more?
Check out all our previous featured Ribblrs here.
Want to be our next Ribblr of the week and earn a special badge?

Send us a message and be our next Ribblr of the week (plus earn our special Ribblr of the week gold badge​)
---
Which is your favorite doeanddeercrochet pattern? Let us know below!