Say hey to Josabella (@josabellas) - our Ribblr of the week and the designer behind Josabella's Crochet Shop!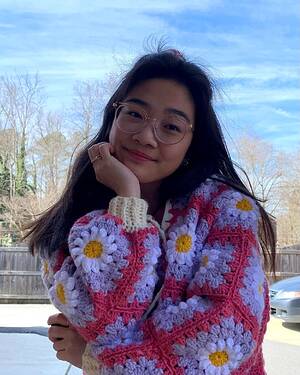 ---
Hey! Tell us a little about yourself.

My name is Josabella! I'm a Georgia peach currently in nursing school. I love dogs, naps, good food, and spending time with my family and friends. I make and sell patterns as well as plushies. My Instagram and TikTok are @josabellas if you'd like to see more of my creations!
When did you start crafting and how?
My crafting journey began at a very young age: I remember always being the very last to finish our arts and crafts in preschool. I love all things creative. My mom and my grandma always made sure that my siblings and I had a lot of crafting supplies at hand and growing up, we were lucky enough to get to take painting lessons, pottery lessons, and more! I'm down to learning anything and everything and I really enjoy creating things with my hands.
And how did you start designing?
I learned how to knit and crochet when I was in elementary school around third grade, but I didn't really get into crocheting until 2019 when I was a senior in high school. For a long time, I would only crochet to make squares for an organization called Knit-a-Square because I had realized that crocheting them was way faster than knitting them. During senior year, I finally sat down and figured out how to crochet in the round, so once I got comfortable reading patterns and understanding how to make certain shapes, I started freehanding and making my own patterns.
Do you have a favorite craft type and if so - why?
My favorite craft is crochet because it's pretty easy to grab all of your materials and crochet on the go and the possibilities of what you can make are endless. I'm also looking to get back into pottery because I love sitting at the wheel and to be so hands-on.
That's awesome!
Speaking of Crochet - what was the longest project you worked on?
I think the longest project I've ever worked on is a granny square blanket I made a few years ago. I actually ended up transforming a good half of it into the cardigan I'm wearing in my photo! (see above)
And the shortest one? (excluding frogging!)

My most recent short project was a turkey I made with my Nugget the Turkey pattern! It took me about an hour to make.
What are you currently working on? Be honest - how many WIP do you have right now?
Right now I have 3 projects going right now: one is a pattern test, another is Scrump from Lilo and Stitch, and the other is the Halloween top. I try to start what I finish ASAP so that I don't lose interest and end up with a bunch of half-done projects lying around.
Which of your designs are you most proud of?
One of my favorites is my Milk & Cookies pattern!! I also love making teddy bears with my Mitten the Bear Pattern.
Why is Amigurumi the type of crochet that you gravitate towards?
What I really enjoy about amigurumi is how broad the art is and how creative you can get with it despite having the same materials as everyone else. There's so many awesome crocheters who each have their own individual style, and it's so cool to me how you can see a picture of a project and know exactly which fiber artist took it!
What is your usual process of designing?
I always have random bursts of inspiration. Usually, I will have a vision in my head and I'll just go for it. Sometimes, I'll sketch it out in my notebook but most of the time I just freehand it and see what happens. I try to write down things as I go, but usually I get too excited and will forget.
And what is it that inspires you to create and design?
A lot of times, I'll see something really cute in a show, in real life, or on the internet and it'll motivate me to make something. I also get a lot of inspiration from my friends and family - they always have great ideas. It makes me so happy when I can get people to smile through my art.
Time for some pop culture!

Any favorite song, book or movie you would like to recommend?
Yes! Some of my favorite books are: The Glass Castle by Jeannette Walls, Song of Solomon by Toni Morrison, and The Adventures of Hugo the Round Pug by Jeannie Caryn. The last book is super fun and written by someone I know, so go check it out!! The other two I discovered through school… I was one of those kids who kind of liked summer reading.
What is your favorite feature on Ribblr?
I LOVE that I can cross off rounds as I'm working, this has been my favorite feature since I purchased my very first pattern here on Ribblr! I also love how nice everyone behind Ribblr is and I think it's awesome that you can really tell that they have your back.
Thank you!
Lastly - pay it forward - your shoutout to a fellow Ribblr

One of my all time favorite crocheters is my friend @kelvencrochets. They make the cutest things and have the prettiest photos!
Thank you for sharing!
---
Check out Josabella's shop
---
Want to read more?
Check out all our previous featured Ribblrs here.
Want to be our next Ribblr of the week and earn a special badge?

Send us a message and be our next Ribblr of the week (plus earn our special Ribblr of the week gold badge​)
---