Say hello to Libby (@crochetbylib) - our Ribblr of the week and the designer behind BeatnikThreadz!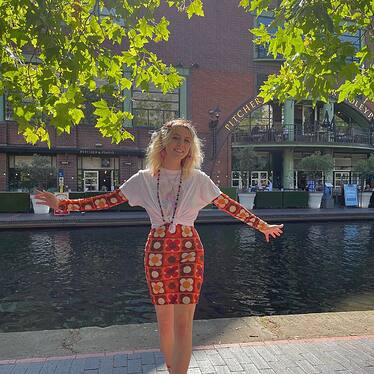 ---
Hi Libby!
Please tell us a little about yourself.
Hi! I'm Libby, I'm a UK based crochet artist and the owner of BeatnikThreadz! I'm 21, just finished my bachelor's degree and now work in a local arts centre trying to figure out what to do next! I spend a lot of my free time crocheting, but I also enjoy drawing/ painting and playing the odd video game.
When did you start your crafting journey?
I think the first time I picked up a crochet hook was March 2020 and I was terrible! But thanks to Lockdown I had months and months to practice. I probably spent quite an unhealthy amount of time crocheting and frogging over and over until I made my first item of clothing!
That's fantastic! So how did you get into designing?
I shared a video on TikTok of my crochet froggy pocket cardigan and was lucky enough for it to go viral! After that I felt really motivated, so I nailed down on designing the cardigan so it was ready to share and wrote up a pattern for it.
That's awesome. Do you have a favorite craft type and if so - why?
I really enjoy embroidery and jewellery making, but crochet has to be my favourite craft type. It's the craft I always turn to whether I'm happy, sad, bored or stressed.
What was the longest project you worked on?
Most likely one of my jumpers. But I have just embarked on a blanket which I anticipate will be my longest project!
What's the most recent project you've worked on?
My latest crochet addiction has been bags, I'm a huge fan of a crossbody bag and have made quite a few recently.
Which of your makes/designs are you most proud of?
I think it might have to be my cat patchwork jumper, I can't seem to take it off! It took me a very long time to get the pattern right and I'm incredibly proud of how it all came together.
What is your usual process of designing?
I wish I could tell you it was super organised but most of the time it's very hectic and as a result takes a lot of trial and error. It starts with a messy sketch, I'll neaten it up and measure everything out, then get crocheting!
What inspires you to create?
I think a big motivation for me to create patterns is to share that anybody can get crafting and that making your own clothes from scratch is much more rewarding than buying into fast fashion.
Any favorite song, book or movie you would like to recommend?

I love listening to music when I crochet! Three songs I am loving at the moment are Mood Bomb by Superfood, Take on the Night by Kings & Bears and (change of genre) Mushroom One by HENGE.
Share a funny story that happened to you recently

Recently at work we had a show which attracted a large crowd of first year uni students. Whilst I was rushing around, I managed to walk straight through the front of a TikTok video a huge group of them were making! It was quite embarrassing at the time, but in retrospect, rather funny.
We'd love to know? What is your favorite feature on Ribblr?
I am a massive fan of the way Ribblr can translate patterns into the terminology that you use. I think it's an incredible feature and is so inclusive for crafters from all across the world.
Pay it forward - your shoutout to a fellow Ribblr
I've recently become a huge fan of @realmdesigns and think they're definitely worth checking out! I've particularly been loving their new flower vest.
Thank you so much for sharing Libby!
---
Check out Libby's shop
---
Want to read more?
Check out all our previous featured Ribblrs here.
Want to be our next Ribblr of the week and earn a special badge?

Send us a message and be our next Ribblr of the week (plus earn our special Ribblr of the week gold badge🏅)
---
Questions or compliments? Share them below!