Say hello to Lynn (@strawberriepuffs) the designer behind StrawberriePuffs, and our Ribblr of the week!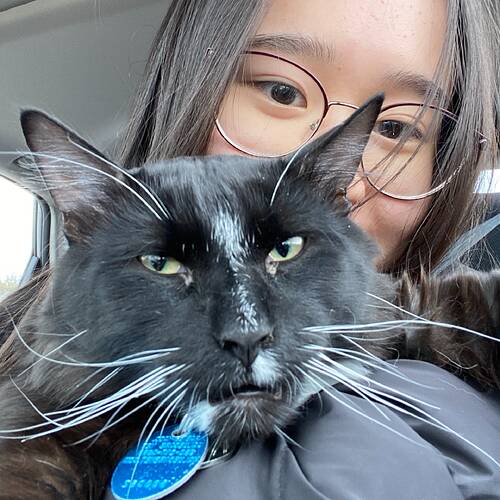 ---
Hey Lynn! Tell us a little about yourself.
I'm a university student who's currently studying biochemistry, but in my free time, I love to crochet, create any kind of art, play video games (especially cozy ones), watch YouTube, and hang out with my friends!
When did you start crafting and how?
I started knitting when I was in third grade. It started with this girl who would always bring her yarn and needles to knit during reading time, and it quickly became a trend with the rest of the class. Almost everyone started bringing their own knitting supplies, and we would just knit while the teacher read us a story. I tried to learn how to crochet soon after, but I never actually got the hang of it until ninth grade when I randomly decided to start learning again. Now, crocheting is my favorite crafting hobby!
And how did you start designing?
I just did! The first pattern that I ever wrote was my Witch Frog pattern. Up until that point, I'd just follow tutorials and patterns. I had gotten good enough at crocheting and understanding the concept of it that I decided to freehand something to see if I could start selling patterns, and it went well! The release of my Witch Frog tester call was the thing that boosted my Instagram account tremendously, and it gave me the platform to share my creations and market my patterns.
Why do you gravitate towards amigurumi?
I just love cute stuff! I love crocheting cute little animals and other creatures. It's practically all I ever make. I think creating amigurumi provides me greater room for creativity than other kinds of crochet items.
What was the longest project you worked on?
That would probably be the first piece of crocheted clothing I ever made, which was a granny square cardigan. I don't remember how long it took me, but it was certainly a long time. It required a crazy amount of granny squares and lots of sewing.
And the shortest one? (excluding frogging!)
That'd be the No-Sew Whale by @stitchbyfay! It was super quick and easy to make.
What are you currently working on? Let's get real - how many WIP do you have right now?

I'm currently working on a commission for two fruit bears. I haven't actually started yet, but I really should. I have zero WIPs right now. I always like to finish my current project before starting a new one.
Huge respects!
We can learn a thing or two…
Which of your makes/designs are you most proud of?
I like a lot of them, but one of my proudest makes has to be my Rose Bulbasaur.

What is your usual process of designing?
I typically sketch out an idea of what I want my amigurumi to look like. Then, I start freehanding it while writing down my steps for each round. Once I have that rough pattern outline, I make it into a better, more organized, and more detailed version and put out a tester call. After the tester call is done, I revise the pattern and release the final version on my shops.
What inspires you to create/design?
I follow so many awesome creators on Instagram, and it's really inspiring to see all these amazing makes and patterns on my feed. Seeing all this creativity fuels my passion for crochet and gives me so many ideas for designs. Plus, I get so much support from my friends, family, and online followers. It motivates me to keep going!
Pop culture time
Any favorite song, book or movie you would like to recommend?
The song I'm currently obsessed with is IDOL by Yoasobi!
It's Monday! Care to share a funny story that happened to you recently?

It's related to the photo of myself. The cat in the photo is my friend's, and it was taken on the ride home from his neutering appointment. He was very much still loopy, and his mouth was hanging open in pure distraught the entire ride. He just looked so betrayed and devastated, and I couldn't stop laughing and taking photos of him looking like he had served fifty years at the pound even though he wasn't even a year old yet. He's all good now, though!
What is your favorite feature on Ribblr?
I just love how easy it is to create and sell interactive patterns as well as the low fees! I'm a huge fan of the interactive patterns because I can easily keep track of which row I'm on and make any notes if necessary. As a seller, the low fees are great for obvious reasons.
That's so awesome to hear!
Lastly, the stage is yours. Pay it forward - your shoutout to a fellow Ribblr

Shoutout to @teeslibrary! I think they are so underrated and deserve so much more hype. All their patterns are absolutely adorable and fun to make. I'd highly recommend their shop.
Thank you for sharing Lynn!
---
Want to read more?
Check out all our previous featured Ribblrs here.
Want to be our next Ribblr of the week and earn a special badge?

Send us a message and be our next Ribblr of the week (plus earn our special Ribblr of the week gold badge​)
---
Check out StrawberriePuffs shop now - an exclusive sale starting later this week​