Say hey to Michelle (@knotmichelle) - our Ribblr of the week and the designer behind knotmichelle!
---
Hey! Tell us a little about yourself.
hihi my name is Michelle! I'm 17 from Canada and currently waiting to enter post secondary after a gap semester. I'm quite busy, so haven't had much free time, but I always crochet or knit when I do!
When did you start crafting and how?
I started crocheting when I was about 10, only learning the basics such as chaining and making swatches of sc and dc until I just got bored and stopped. Then I got into knitting classes at age 12, remembering I knew how to crochet as well, then I became obsessed and they became my favourite hobby!
And how did you start designing?
After I made my first little amigurumi project and following my first pattern I wanted to make more! It was hard to find patterns that I wanted to use so I just started drawing what I wanted to make and freehanded it!! I really enjoyed it for a few years so during the pandemic when I had a lot of time, I opened my ig account and started designing even more!
Do you have a favorite craft type and if so - why?
At the moment, it is definitely crocheting! It's just therapeutic and once a project is finished, you just get that feeling of happiness and you have such a cute product in the end!! I also love knitting and drawing, I want to get into more but I just don't have the time or money haha.
What was the longest project you worked on?
Definitely all of the cardigans I have made, including @IamLankaDesigns lil teddy cardi! Pretty proud with how they turned out, but I haven't worn a single one in public.
And the shortest one? (excluding frogging!
)
Bear keychains which take me less than an hour to make. My mom loves gifting them as presents and telling her friends that I made it, promoting my business.
What are you currently working on? Be honest - how many WIP do you have right now?
Currently I'm working @kelvencrochets 5-in-1 pattern, making a bunny as a gift. I currently have like 4 wips because I can't stay focused on one of them, including a knit cardigan (it's taking forever)
Which of your makes/designs are you most proud of?
Horangi!! 2022 is the year of the tiger so I designed him at the end of last year in order to be on time for new year's! He was inspired by my mom since her favourite animal is a tiger and an idol from my favourite kpop group, seventeen!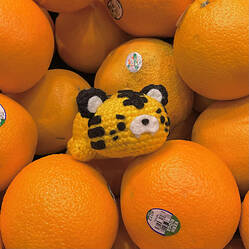 What is your usual process of designing?
I usually find something I am currently interested in like an animal, a show, etc. then I sketch whatever I want to make and begin making it. There's a lot of trial and error, but in the end, I'm always proud of what I made!
Any favorite song, book or movie you would like to recommend?
Currently my favourite song is seventeens "_world"! It's super good, but I know kpop isn't for everyone… But I'm also recommending some anime's like spy family and attack on titan which are some of my favourites!
Care to share a funny story that happened to your recently?
Hmm not many funny things have happened but I guess there was a funny moment but it hurt real bad… Anyways I was with my niece and she made the floor super slippery and me being clumsy, slipped right in front of the room she was in, basically almost face planting. I hit my arm on a chair and had a bruise that looked like a minion for like 3 weeks.
Oh no! We're hope you're okay now

What is your favorite feature on Ribblr?
Ribbuild! It's super easy to make every single pattern and it's so so convenient! I love how interactive everything is!
Awesome! Finally, pay it forward - your shoutout to a fellow Ribblr
@kelvencrochets one of my favourite creators I've met throughout my crochet journey.
Thank you for sharing!
---
Check out Michelle's shop
---
Want to read more?
Check out all our previous featured Ribblrs here.
Want to be our next Ribblr of the week and earn a special badge?

Send us a message and be our next Ribblr of the week (plus earn our special Ribblr of the week gold badge​)
---