Hi Ribblrs! Say hey to Mong (@MongsCrochet) of Mong's Crochet - our Ribblr of the week!
---
Hi Mong! Please introduce yourself.

Hey y'all! I'm Mong, I'm 20 years old and live in a small country called Singapore
. Apart from crocheting I've been dancing for 18 years - I do ballet, hiphop, contemporary and tap! I'm also a second year med student:-)
That's amazing! When did you start your crafting journey?
I started knitting when I was 11, and I remember learning from a youtube tutorial while practicing with chopsticks and string. I picked up crochet when I was 17 but picked it up more during quarantine, and I haven't stopped since.
And how did you start designing your own patterns?
I take inspiration from normal clothing I see on Instagram or even on the streets, and extract elements that I find unique and pretty. Sometimes my customers have specific requests that turn into a new design - my first pattern was based off a sketch by my friend!
Tough question - which is your favorite, Crochet or Knitting?

I'm definitely the best at crochet now but I'm really interested in other crafts as well! I'd love to pick up knitting again, and maybe try out embroidery or pottery some day!
I love crochet for its practicality in being able to create wearable clothes or usable accessories. It's also so versatile in terms of stitch and yarn combinations, giving me loads of room to be creative.
What's the longest project you ever worked on?
The Nina Top by @handmadebyhannalouise on Instagram. It has a ruffled skirt made up entirely of single crochet stitches, and takes me easily up to 50 hours to complete.
We're excited to know - what are you working on right now?

I'm working on a simple oversized cardigan, and hopefully write its pattern too.
Which of your designs are you most proud of?
It would have to be my Mori Vest! It's such a sleek design that works up so quickly, but the Trinity Stitch in the front and a cutout in the back makes it really special:)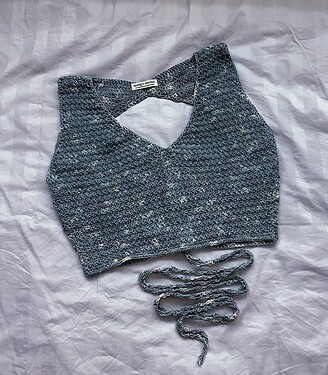 What's your usual design process?
I sketch out ideas I have - it could just be a neckline, a sleeve, or a stitch pattern. Sometimes these ideas sit in my notebook for months and when I'm looking for something to do, I pull it out and piece them together.
And where do you find inspiration for your designs?
Sometimes beautiful yarns inspire me! Other times practicality is my main motivation when I want to make something I would wear regularly.
Time for some pop culture! Any favorite movie or song you'd like to recommend?
Song: Have Mercy by Eryn Allen Kane - I loveee the vibe, it feels so euphoric.
Movie: Minari - it's such a heartwarming story and the cinematography and soundtrack feels so nostalgic. Check out the other movies by A24 as well!
What's your favorite Ribblr feature?
The formatting of Ribblr ePattern makes it so easy for designers to write patterns!
Finally - Your shoutout to a fellow Ribblr:
Faaryn @OwlBHooked has the cutest blanket designs!
Thank you for sharing Mong!
---
---
Want to read more?
Check out all our previous featured Ribblrs here.
Want to be our next Ribblr of the week and earn a special badge?

Send us a message and be our next Ribblr of the week (plus earn our special Ribblr of the week gold badge🏅)
---
Questions/compliments for Mong? Share them below!