This week we're excited to feature Morolape (@ThePurpleCrochet) of The Purple Crochet as our Ribblr of the week!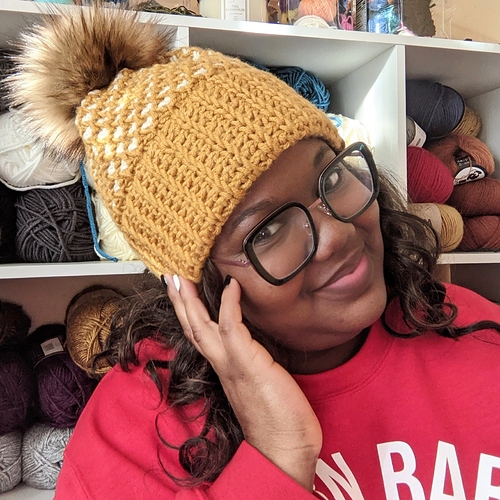 ---
Hi Morolape! Please tell us a bit about yourself.
Hi! My name is Morolape (moe-row-lah-pay) and I'm the maker/designer at The Purple Crochet.
When did you start your crafting journey?
I started crafting when I was about 7 years old. A friend at primary school taught me how to crochet. I would pick up a hook every once in a while. It took a year to complete a scarf!
Fast forward to when I was pregnant with my first baby 9 years ago, I picked up the hook and I haven't put it down since!
I learned Tunisian Crochet in 2020 and it has been such an amazing experience!
That's amazing! So what is your favorite craft, and why?
My favorite craft is Tunisian Crochet. I love the patterns and textures that I see with Tunisian!
Can you recommend a short Tunisian Crochet project?
My Bethel Earwarmer pattern.
Cool! What are you working on right now?
Right now, I'm working on sending my newest pattern out to testers. It's called the Bethel Beanie, a Tunisian in the Round pattern.
That's exciting. Do you have a design that you're particularly proud of?
I am most proud of my beanie pattern.
Any favorite book or song you'd like to recommend?
My favorite book would be the Tunisian Crochet workshop book by Michelle Robinson.
And finally - what's your favorite Ribblr feature?
I'm still learning all the bells and whistles on Ribblr but my favorite so far is Ribblr ePattern - the interactive pattern.
Thank you so much for sharing Morolape! We love your designs and can't wait to see your new beanie!
---
Check out The Purple Crochet shop:

---
Enjoyed reading this? Check out our previous Ribblr of the week posts!
Want to be our next Ribblr of the week?

Send us a message and be our next Ribblr of the week (plus win our special Ribblr of the week gold badge🏅)
---
Feel free to ask questions & share your love in the comments below and let us know - have you ever tried Tunisian Crochet?