Hi Ribblrs!
Say hello to our new Ribblr of the week - Nicole (@Fiercehook), the designer behind Fiercehook.
Nicole will be hosting one of the first interactive craft alongs on Ribblr, next Sunday, for her Big Sur blanket!
Want to be our next Ribblr of the week and earn a special badge?

Send us a message and be our next Ribblr of the week (plus win our special Ribblr of the week gold badge🏅)
---
Hey!
Tell us a little about yourself.
Hi, I'm Nicole! I love to create using yarn as my medium. I don't have a favorite color but turn to nature and the world around me for design inspiration.
What is your favorite type of craft and why?
I love to crochet because I feel as if the possibilities are endless. I feel like there is still always something new to learn!
When did you start crafting?
I grew up surrounded by the women in my family who were always crafting—especially in sewing and yarn arts. I tried a lot of different crafts from a young age. In middle school, I got into plastic canvas needlepoint and really enjoyed it. It wasn't until 2003, I decided to teach myself to crochet as a way to keep myself busy on my commute to work. I then learned to knit in 2018 and to Tunisian Crochet in 2020.
What was the longest project you worked on?
My longest project was a crocheted baby blanket for my daughter. I started it a few days before she was born but got really frustrated with the intricate border. I put it down and didn't get determined to finish it until 10 years later. Although it took me so long, coming back to an unfinished project and being determined to complete it felt really good.
Thats's really inspiring! And what was shortest project you worked on? (excluding frogging!
)
The shortest one was the knit sweater, Ghost Horses by Caitlin Hunter. I got really involved in the Colorwork portion and didn't want to put it down. I ended up modifying the pattern and making it a small poncho rather than a complete sweater.
Which of your designs are you most proud of?
There is something about the Rainy Day Poncho pattern that still excites me when I see it.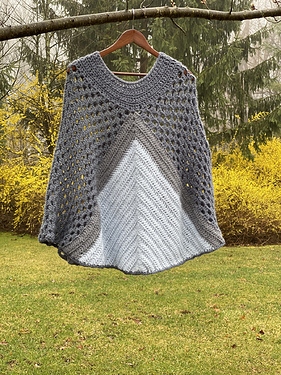 Any favorite song, book or movie you would like to recommend?
Well, I don't watch TV other than for a football or hockey game. I love music and have been getting into collecting vinyl albums. I mostly listen to Rock and Hard Rock. Picking just one band is tough but I've always been a big fan of The Doors. My current favorite Author is Brandon Sanderson. I listen to his books on audio as I work.
What is your favorite feature on Ribblr?
The pattern writing feature is fantastic. I like that I can keep everything all in one platform and add or edit as I go.
Pay it forward - your shoutout to a fellow Ribblr:
I seriously admire the Colorwork talent of Bad Wolf Girl Studio (@BadWolfGirlDesigns).
---
Thanks you Nicole for sharing!
You can add Nicole to your friends list by clicking here: @Fiercehook and then click the Follow button. You can also add Fiercehook to your favorite shops.
Which of Nicole's designs is your favorite? Want to ask a question? Comment below!