Say hello to Olga (@Olgamigurumi) of Olgamigurumi!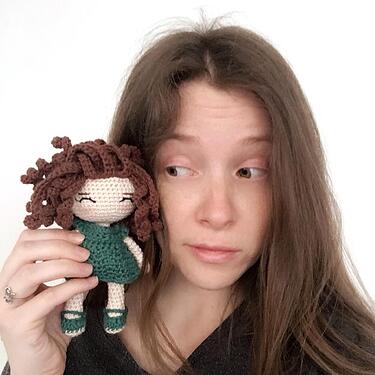 ---
Hi Olga! Please tell us a little about yourself.
Hi! My name is Olga. I'm a Russian programmer living in Spain. Also I'm a crochet designer and a dollmaker. I make dolls for sale, offer premium and free crochet patterns, share video tutorials on Youtube and Instagram. Also I love to draw and colour!
When did you start crafting and how?
I started to craft about 4 years ago when my little son was born.
And how did you start designing?
I started to make paper dolls and their clothes when I was a little girl. Now I make almost the same but with yarn. I started to design crochet dolls when I realised that I will never have a daughter. I love to play with dolls, I love to make clothes for them, I love to choose colors and explore nuevas combinaciones. I saw a lot of different handmade dolls on the Internet. So I decided to make my own dolls.
Do you have a favorite craft type and if so - why?
Crochet - is my favorite craft type, because it works fast, you can make almost any shape and texture, and you can take your hook and crochet in any place.
What was the longest project you worked on?
My longest project is Emilie, the doll. I keep designing, filming tutorials for Youtube and I add more clothes and accessories.
And the shortest one? (excluding frogging!)
My crochet flower's bracelet.
Which of your makes/designs are you most proud of?
I love all my dolls, but Eva the doll is my favourite little girl.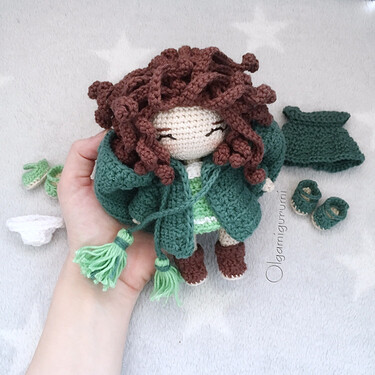 That's amazing!
What is your usual process of designing?
Normally I have an idea in my mind, and then I start to crochet, I do, undo, I repeat these step a lot of times, and then I achieve my goal (or sometimes no)
What inspires you to create and design?
It can be anything or anybody. I just can observe people and see something interesting in their movements of the hair or clothes. Also I love to visit parks and gardens to stare at flowers and plants.
Any favorite song, book or movie you would like to recommend?
I like asian music, especially IU's songs, her voice is so sweet.
Any a funny or interesting story you can share that happened to your recently?
I saw a little girl in the street, and I wanted to draw her and to crochet her
I think It is some kind of obsession already
What is your favorite feature on Ribblr?
As a designer, I love that I can write my pattern on the go and I can add photos for every step of the process.
As a maker, I love that I can mark rows already done and not to be confused, especially if it is not my pattern.
That's awesome! And finally please pay it forward - your shoutout to a fellow Ribblr
Rnata @Rnata - her animals are so sweet.
Thank you so much for sharing Olga!
---
Check out Olgamigurumi
---
Want to read more?
Check out all our previous featured Ribblrs here.
Want to be our next Ribblr of the week and earn a special badge?

Send us a message and be our next Ribblr of the week (plus earn our special Ribblr of the week gold badge🏅)
---
Any questions for Olga? Share them below!